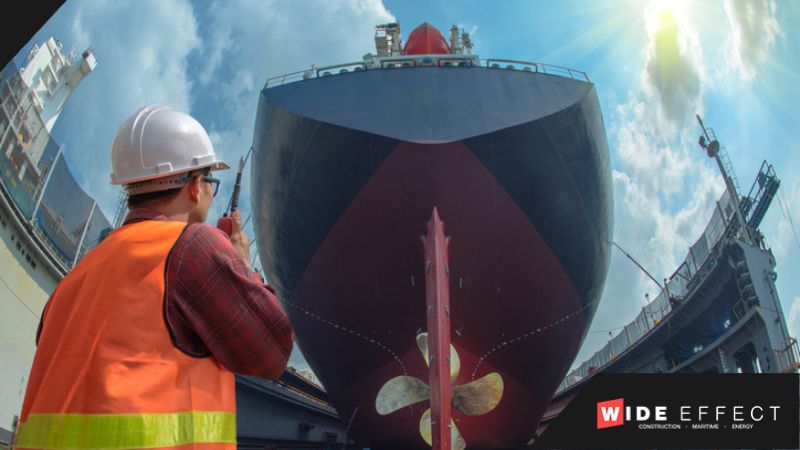 The maritime industry offers a wide variety of positions. Many of these positions are ones you can find in other industries, such as HVAC technicians, electricians, laborers, maintenance crews, and more, but there is one key distinction between other construction jobs and maritime careers: environment. Although some maritime careers can be performed on land, particularly positions that are not labor-centric, the majority of maritime careers are on the water. A maritime career can be a great opportunity for people who don't get seasick, but this sector isn't always for everyone. Consider some of the common benefits and risks of maritime careers before deciding to build a career path in this industry
Is A Maritime Career Right For You?
Benefits
Outdoor Work
If you love the outdoors, maritime careers are a great opportunity for you to be out in the elements. Many maritime workers enjoy the sea air and being on the water.

Good Wages
Your wages will largely depend on your location, department, and job description, but starting wages for maritime careers are typically all decently above minimum wage. More seasoned maritime employees can have greater wages and you can make around $55,000 annually.

No Extra Education Needed
Some maritime careers that don't require any post-secondary education, although you will likely need your high school diploma. Although Marine Training School is offered and can help to advance your career, you do not need to complete a program to get a starting position in this industry.

Career Opportunities
Maritime careers offer a wide range of positions, from physical labor like traditional fishing and longshoreman positions to highly technical positions that require training and education. If you join a maritime training school and get additional certifications, even more opportunities become available.
Risks
Outdoor Work
When the weather is great, maritime careers can be ideal for people who love the outdoors, but when the weather is poor, you still have work to do. You might have to endure a variety of extreme weather conditions depending on the season. This can mean working in storms or squall and dealing with large waves that rock the boat. You will need the proper gear, training, and focus on your task to operate safely.

Danger
As with many physical construction jobs, maritime careers can be dangerous. Slips and falls and moving or falling objects are some of the most common dangers, as well as risks of personal injury from physically demanding work.

Confined Living Space
While you're working, you live on the boat in a small space shared with others. Not only does this mean reduced privacy and alone time, but it also commonly increases the risk of illness spreading through the crew members.

Alternate Schedules
You need to be able to commit to longer periods away from home and long workdays. Some people prefer this, as it means they get more stretches of time off than other careers allow, but for others it can wear on their mental health. If you need to spend time with your family, if you need a regular schedule to create a sense of routine, or if the working hours are too long and lead to burnout, maritime careers may not be ideal for you and your mental health.


Begin Your Maritime Career
If you're searching for a maritime career, partner with a maritime staffing agency to find a position with a reliable company where you can integrate seamlessly. Whether you're seeking to start your career or you're looking for top paying maritime jobs, Wide Effect can help you reach your maritime career goals. Our staffing agency expertly matches candidates and companies so that both parties benefit. Wide Effect has over 60 years of experience matching workers of all skill levels with reputable companies. If you are seeking a maritime career, Wide Effect can help. Join the Wide Effect roster of employees by calling 1-262-298-0026 or filling out the online contact form.


FAQ
Q: I am a job seeker. Where can I find open positions that I can apply for?
A: You can visit our current job postings here.
Q: I'm looking for a job in Maritime Construction. What should I do?
A: If you are a skilled and experienced maritime professional, connect with Wide Effect to explore our current opportunities or apply to join our talent database.
Q: I'm interested in a direct-hire position. Does Wide Effect offer direct-hire and how can I increase my chances of getting this type of position?
A: Partnering with a staffing company is already a great step to increasing your chances of getting a direct-hire position, but you will also have to position yourself as highly desirable for companies. Read Job Seekers: How To Position Yourself As The Ideal Direct-Hire Candidate to learn more.
A Better Way to Recruit
Are you experiencing productivity challenges, skill gaps in your workforce, or do you need a short-term placement? Don't waste your time and money navigating these alone. We bring the process, experience, and placement successes you need to make your labor force concerns a thing of the past. Call us at 1 (833) 493-5627 or use the contact form to discuss your personalized staffing solution.
By submitting this form, you opt-in and give expressed consent to receiving SMS / text messages, calls, and emails from us for the purposes of communication related to your inquiry or related to the products and or services we provide.