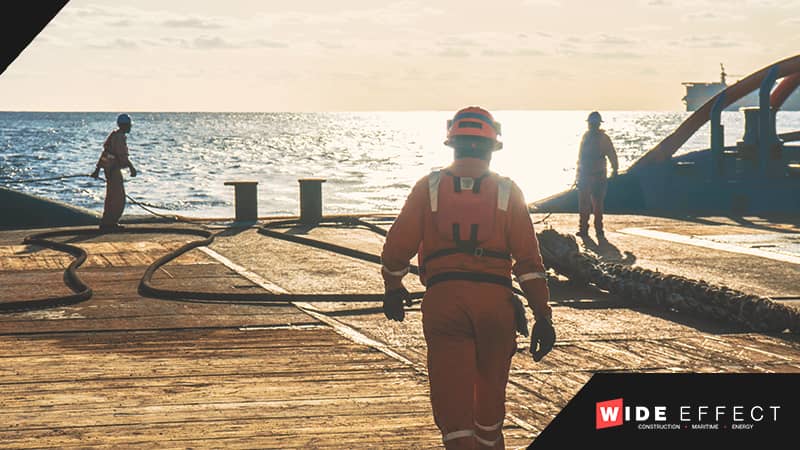 Maritime careers can be divided into two main categories: workers who build marine infrastructure and ships and workers who operate them. Marine infrastructure includes platforms, subsea structures, pipelines, and cables crucial to offshore activities in oil and gas, energy, and telecom. Ship navigation and other naval personnel are also valuable workers in this industry. The highest paying jobs in maritime careers are as maritime executives or those who head departments and have chief positions, but other maritime careers earn high salaries. If you're interested in marine construction, here are some well-paying positions.
Top Paying Maritime Careers
All salaries listed are the typical yearly salaries for a person who has moderate experience in their position. Salaries do not include bonuses, overtime, or profit-sharing.
1. Chief Procurement Officer. Average Salary $187,392
Workers in this position select suppliers and vendors, ensure available business inventory, maintain an effective, reliable supply chain, complete employee performance evaluations and give feedback, analyze reports, and make payments to vendors while maintaining the company budget. Procurement officers focus on making operations as profitable and efficient as possible.
2. Senior Project Manager. Average Salary $114,588
The senior project manager is responsible for the end product so they must have in-depth knowledge of the process from start to finish. This position also requires a high degree of communication skills, as the senior project manager interacts with architects, engineers, clients, vendors, and subordinate staff.
3. Chief Estimator. Average Salary $98,260
This marine construction management career focuses on estimation functions including budgeting, staff scheduling and development, training, performance evaluations, and departmental goals. Chief estimators are responsible for creating and regulating department standard operating procedures and performance metrics. This position requires a deep understanding of government policies and regulations related to the maritime industry.
4. Senior Shipbuilders. Average Salary $84,500
Shipbuilding often happens right in the shipyard and includes the construction and maintenance of both commercial and military nautical vessels of various sizes. Shipbuilders do everything from designing and drawing the blueprints of the ship to constructing it. Pay can greatly vary depending on the type of vessel, as luxury private vessels can drastically range in project price.
5. Safety Manager. Average Salary $82,792
Safety managers limit the risk of accidents on the worksite by developing and implementing safety features and procedures, as well as making sure these safety guidelines are being followed. Safety managers may have to interact with government officials for on-site security and will have to communicate with clients and vendors about established safety parameters. Safety managers write detailed incident reports and actively search for ways of improving safety. They create new safety protocols while minimizing costs for the company.
Maritime Staffing In Milwaukee And Across The US
If you're searching for a maritime career, partner with a maritime staffing agency to find a position with a reliable company where you can integrate seamlessly. When you partner with Wide Effect maritime staffing experts, our team will ensure we place you with a company that utilizes your skills and offers the tools to achieve the goals you seek in a maritime career. Wide Effect has over 60 years of experience matching workers of all skill levels with reputable companies. If you are seeking a maritime career, Wide Effect can help. Join the Wide Effect roster of employees by calling 1-262-298-0026 or filling out the online contact form.
No, those seeking work don't have to pay to become a part of the global talent roster at Wide Effect.
You can visit our current job postings here.
Wide Effect specializes in Construction, Maritime, Oil & Gas, Renewable Energy, and Safety Personnel. We recruit workers of all levels of industry, from laborers to management positions.
Wide Effect Will Resolve Your Workforce Challenges
We are the nation's top recruiting force for Construction, Maritime, Renewable Energy, Oil & Gas, and Safety Personnel. If you have staffing challenges at any level- labor to leadership, we have the solution. Connect with our recruiters in all 50 states now and learn more about our staffing blueprint for success.
A Better Way to Recruit
Are you experiencing productivity challenges, skill gaps in your workforce, or do you need a short-term placement? Don't waste your time and money navigating these alone. We bring the process, experience, and placement successes you need to make your labor force concerns a thing of the past. Call us at 1 (833) 493-5627 or use the contact form to discuss your personalized staffing solution.
By submitting this form, you opt-in and give expressed consent to receiving SMS / text messages, calls, and emails from us for the purposes of communication related to your inquiry or related to the products and or services we provide.