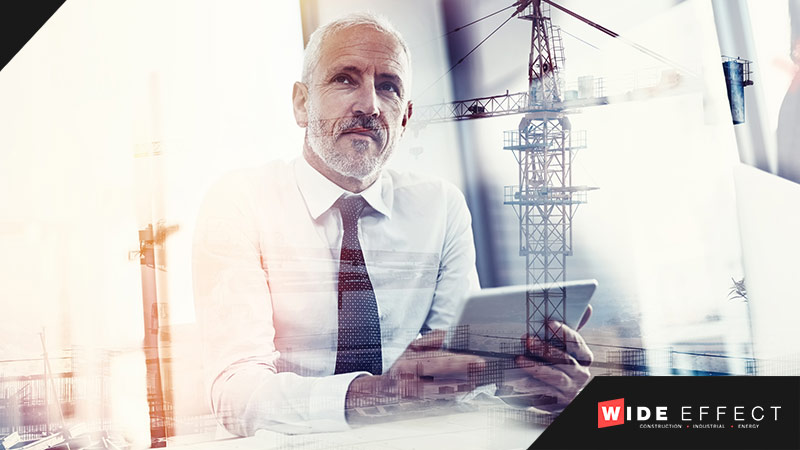 Wide Effect provides Global Talent Acquisition Solutions with the expertise of North America's leading team of recruiters. Our network of specialists deliver efficient and timely solutions to place skilled professional and executive-level roles within your organization. Wide Effect builds meaningful & lasting relationships to provide you with tailored, top-level, reliable talent allowing you to focus on your business. With 60+ years of experience in placing the best talent acquisitions for Maritime Industry, Power Generation, and Construction clients in the US and abroad, the Wide Effect team has the ability to understand the skill, work ethic, and values important to building the best team for your organization. Our robust network allows us to bring the industry's most outstanding talent to you.
After more than 23 years in the Construction Labor Industry, Mike Christiansen felt the effects of a declining labor workforce. He knew there was a need to connect quality, experienced workers with employers in the industry. He wanted to change the industry standard and provide a top-level recruiting experience for both clients and candidates. Wide Effect is built on the promise of identifying the talent needs of a company and presenting the most suitable candidates for the role.
Our vision is to build relationships with our clients and their potential candidates and to facilitate relationships between them to ensure a compatibility of skill, principles, and culture. Years of experience and connecting with key players in the field means our national database of employers and talent is unmatched. Our recruiting blueprint means we connect the best employers and best employees, leaving you free to focus on what you do best.


Building Relationships to Construct Solutions
We want to get to know you! We are committed to understanding your business, your workplace culture, your unique challenges, your visions for growth. This means we can bring the most effective and efficient solutions to address your staffing needs. With a personalized approach to client care, you will have a dedicated team at Wide Effect working to construct a staffing plan specifically for you; a team to work with you through the process until you have found the best professional for the job.
Our process is transparent allowing both client and candidate to evaluate the fit within your company's workflow and culture. Our integrity during this process creates opportunities for the candidate to build a promising career path and creates opportunities for the client to acquire amazing new hires who will elevate their workforce. We want to raise the bar on the hiring process and improve each organization by bringing together great employers and skilled, productive team members. We will work with you until you have the best fit for your business.
The Wide Effect Difference
Choosing Wide Effect means you are choosing the most experienced, knowledgeable construction staffing recruiters to guide you through the process of building your team. Our proven blueprint for workforce solutions will guarantee you have the right team for your projects. When you work with us, you leverage our superior recruiting formula to your benefit.
The Nation's Trusted Choice In Staffing For
Construction
Maritime
Renewable Energy
Oil & Gas
Safety Personnel
With more than 60 years in Construction Industry staffing, our team is experienced, focused, and ready to create a staffing solution for you. Our network of candidates includes the best Commercial & Industrial, Marine, Renewable Energy, Oil & Gas, and Safety professional and labor personnel. Contact us to find highly skilled workers in your sector.
We Bring the Best of the Best to You
There are many challenges to onboarding new members to your team:
Identifying operational deficiencies
Attracting the right candidates
Fair recruiting
Navigating the vetting process
Designing competitive and attractive offers
Technology and Telecommunications
Mitigating the costs of high turnover
HR processes

Our team is here to understand your unique staffing needs, build a customized recruiting plan, execute, guide you through the process, and ensure you find and hire the most ideal candidate for your business. We have more than 60 years of experience in Industrial and Commercial Construction, Maritime Industry, Renewable Energy, Oil & Gas, and Safety Personnel. Our ever-growing network of talent means we can bring the best of the best to you.
If you are a Construction Industry Professional seeking opportunities for growth and development, we welcome you to contact us and let us help you find an employer looking for your unique skill set. We can lead you to employment with a company whose goals and visions match your own.
BUILDING RELATIONSHIPS, CONSTRUCTING SOLUTIONS
60+ years of construction staffing, a proven recruiting blueprint, successful and enduring placements, effective solutions, and dependable relationships keep our customers coming back to Wide Effect for their staffing needs. These clients are happy to share how our workforce solutions have resolved their challenges.
We Are Where you Are
Our Wide Effect team has recruiters on the ground in all 50 states with access to a nation-wide database of top-level construction talent. We can understand the unique staffing needs of your area. Partner with us to connect with labor, mid-level, and executive construction professionals to build your workforce.
Contact our team directly at (262) 298-0026 or fill out our contact form below.
Our Solutions for Your Success
We recognize the particular staffing requirements of the Construction, Maritime, Energy, and Safety Industries. We have done the analyses of the current industry labor pool. We can identify gaps in productivity and talent within your organization. We understand your needs and we have the solution. Our experienced recruiting force means you are partnered with a dedicated team of specialists to guide you through the hiring process. We specialize in executive and managerial placements, but our robust, nation-wide database allows us to provide all levels of staffing. We work hard for you, interviewing each candidate to ensure an ideal fit for your company. We are committed to the process from needs assessment to successful placement and beyond, ensuring that you have the skills and personalities your team needs to thrive and grow. Our talent pool is your talent pool allowing you to pivot and focus on your business without gaps in staff.

Staffing Solutions: How We Can Help
Direct-Hire Recruiting: Build your team with a permanent placement who brings the skill, experience, attitude, and personality you require. We will evaluate, interview, and provide you with top candidates for your position. Click here to learn more about our Direct-Hire Staffing Solutions.
Temp-To-Hire Recruiting: Use our temp-to-hire option to secure the expertise you need for a short-term project, to assess performance and skill, to manage project flow, or to connect with solid talent for future permanent placements. Click here to learn more about our Temp-To-Hire Staffing Solutions.
Step-by-Step: Your Staffing Journey
When you connect with Wide Effect to solve your construction workforce challenges, your dedicated team is committed to guiding you through the process. From initial contact through screening, selection, hiring, and placement; we are with you each step of the way. This is the road to your customized staffing solution.
Assess & Analyze Your Needs
We will examine your current workforce strengths and weaknesses, and highlight productivity and staffing concerns. We will analyze your workflow, planned initiatives, and projected growth. We will ask the questions needed to establish a deep understanding of the culture of your organization.
Your dedicated team will draw from experience, industry statistics, labor force trends, and the assessment of your business to design a conscientious and customized solution for your current staffing needs. This plan will not only solve your present needs but also set the groundwork for a sustainable solution for any future workforce growth.
Through our in-house talent database of more than one million construction industry professionals and our access to an extensive national network of players we will scout, interview, assess, and evaluate a number of potential candidates until we find the ideal fit for your team.
When a successful placement is achieved, you can rest assured that your contact at Wide Effect will remain on call for you. We continue to stay connected to both the employer and the employee and act as a resource even after the ink has dried.
RESOURCES TO SOLVE YOUR CONSTRUCTION STAFFING CHALLENGES
Wide Effect recruiters are knowledgeable, experienced, and accomplished in creating staffing solutions for all sectors of the construction industry. Having worked with many of the nation's top construction firms, we have a wealth of resources to share with you.
Wide Effect Will Resolve Your Workforce Challenges
We are the nation's top recruiting force for Construction, Maritime, Renewable Energy, Oil & Gas, and Safety Personnel. If you have staffing challenges at any level- labor to leadership, we have the solution. Connect with our recruiters in all 50 states now and learn more about our staffing blueprint for success.
A Better Way to Recruit
Are you experiencing productivity challenges, skill gaps in your workforce, or do you need a short-term placement? Don't waste your time and money navigating these alone. We bring the process, experience, and placement successes you need to make your labor force concerns a thing of the past. Call us at 1 (833) 493-5627 or use the contact form to discuss your personalized staffing solution.
By submitting this form, you opt-in and give expressed consent to receiving SMS / text messages, calls, and emails from us for the purposes of communication related to your inquiry or related to the products and or services we provide.