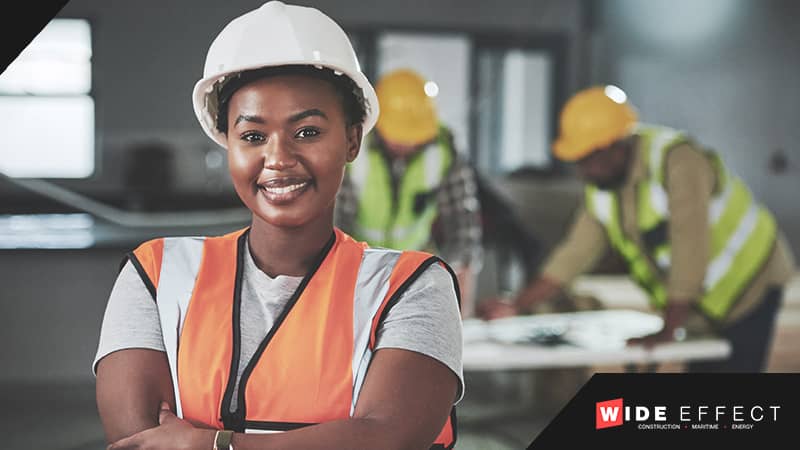 Women in Construction week highlights the invaluable contributions women make to the construction industry while raising awareness of opportunities for women in the trades. Women comprise only 10.9% of all construction workers, with few of those roles as construction executives. This is not from a lack of women's interest or skill, but rather because of insufficient opportunity, unconscious gender bias, and the pressure of entering a male-dominated space. But the number of women with construction jobs is growing, and with that there is greater support, opportunities, and training becoming available for women to break into the field. Much of this support is pioneered by women already in the field, while external factors such as labor shortages are creating more availability for female positions. Companies are now realizing the importance of women in construction, influencing employers to hire women and encouraging women to pursue their passions even in traditionally male-dominated industries.
Women In Construction
Women's Organizations. Groups such as the National Association of Women in Construction (NAWIC) and Women Construction Owners & Executives are providing women with opportunities in the field of construction. These organizations offer mentorships, marketing, and networking opportunities. Organizations that assist women in construction help those who otherwise would not have the ability to learn more about construction and create networking possibilities that facilitate job acquisition.
Women Benefit The Construction Industry. Companies that are more gender diverse are 25% more likely to have long-term, above-average profitability and companies with women in construction executive roles earn higher profits compared to companies with a non-diverse executive team. As new research comes out showing the benefits of a gender-diverse workforce, more companies actively seek to hire more women. The efforts to diversify are also combined with a slow but steady progression of gender equality in the workforce that is influencing younger women to consider a career in construction. More girls are being encouraged from a young age to pursue their passions in all fields, not only the traditional roles for women, and this mentality is expected to influence more women to join traditionally male-dominated spaces and assert their voices.
The Labor Shortage. Workers are in an advantageous position right now as the labor shortage continues. With many people retiring early or staying home for COVID related reasons, and with an anticipated retirement surge as the last wave of baby boomers approach retirement, employers are expected to struggle to find workers. The changing demographics of the available workforce creates more diverse work environments, as employers who may hold a gender bias will have to rethink hiring strategies and may now opt for more women to fill positions. Oftentimes, biases are unknown to those who hold them and they may not realize that they are hiring mostly men, but as workers spread thin, employers will have no choice but to address their biases and begin hiring qualified women who may have otherwise been passed over.
Encourage Women To Pursue Their Construction Careers
If you want a more inclusive workforce that encourages new workers and increased profitability, partner with Wide Effect Talent Solutions. At Wide Effect, we recruit the most qualified construction staffing candidates based on their craftsmanship, certifications, dependability, and productivity. See how Wide Effect recruits, qualifies, and hires experienced women for the construction jobs that your firm has been missing. To partner with Wide Effect, call 1-262-298-0026 or fill out the online contact form.
Women searching for construction careers should join the Wide Effect roster so that we can put your resume in front of the right people and find you a lucrative construction career where you will thrive based on your skills and performance. To find gratifying work in the construction industry, join the Wide Effect employment database.
FAQ
Q: Has the change in the treatment of construction workers influenced the perception of women in construction careers?
A: When the pandemic deemed construction workers as essential, there was a shift in the perception of laborers. Recently, many companies have realized that their employees are their greatest asset and by valuing their opinions and encouraging discussion, many construction executives have seen first-hand the benefits of hiring a greater diversity of workers.
Q: What might the future of women in construction look like?
A: The number of women in construction is steadily increasing and women who already have construction careers are excited to see the number of women joining the workforce. While there are still gender biases and career advancement barriers to overcome, as more companies realize the benefits of hiring women for construction jobs and in roles as construction executives, we will likely see the workplace become a more inclusive space.
Q: I'm a woman trying to further my construction career. How can Wide Effect help me?
A: Whether you are looking for a construction job as a laborer or a construction executive, Wide Effect can find you placement through construction staffing. We will work with you to discuss your goals, tailor your resume, and find the work culture that will best suit you. Join the Wide Effect employment database or contact us to earn more.
A Better Way to Recruit
Are you experiencing productivity challenges, skill gaps in your workforce, or do you need a short-term placement? Don't waste your time and money navigating these alone. We bring the process, experience, and placement successes you need to make your labor force concerns a thing of the past. Call us at 1 (833) 493-5627 or use the contact form to discuss your personalized staffing solution.
By submitting this form, you opt-in and give expressed consent to receiving SMS / text messages, calls, and emails from us for the purposes of communication related to your inquiry or related to the products and or services we provide.