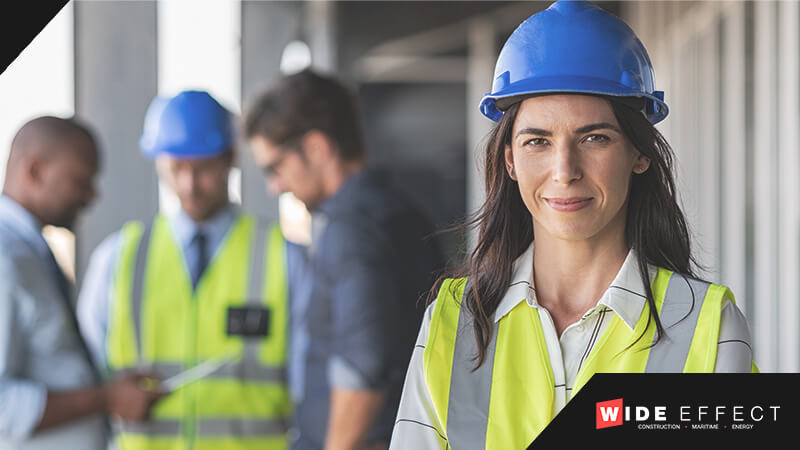 Even today, women are still not equally represented in the construction industry. Hiring, training, and attracting women into the senior ranks of construction firms is essential to improving the industry's declining workforce participation rate.
Women often bring a heightened sense of empathy and clear communication skills to the workplace, and in the construction industry, these skills are vital. Continue reading to learn why women in executive roles are an advantage in the construction industry.
The Importance Of Hiring Women For Executive Roles In Construction Firms
Construction companies that embrace diversity and actively look to hire women for executive roles have better chances of finding the most suitable employee for the job because there are a more diverse set of qualified candidates to choose from. By refusing to hire, or by overlooking qualified women, companies will have a smaller, more homogenous pool of talent to select out of.
Wide Effect Talent Solutions connects employers with qualified professionals ready to drive value to their construction projects. These hand-picked prospects provide a wide variety of skills for nearly any construction project. Wide Effect always includes women in the list of prospects because we appreciate how much value they can bring to a construction project. If you're looking for highly-skilled, dependable, and productive personnel in the construction industry, contact us for a free consultation.
The Construction Industry is on The Rise And Women Are Leading The Way
Hiring the right talent for the job at your construction company can be the difference between staying on time, on budget, and going over it by months. Learn why hiring women for executive roles in construction deserves due consideration.
Increased profitability of companies with gender diverse executive teams
According to an analysis done in 2019 by McKinsey & Company, companies with the highest proportion of gender diversity in the executive team were 25% more likely to be more profitable compared to companies with the lowest proportion of gender diversity. In other words, companies with more women executives make more money.
Elevated emotional intelligence
Communication and teamwork are paramount in the construction industry. Another advantage of having women in executive construction roles is that they have strong emotional intelligence. Indeed, studies have shown that women reliably score higher than men on standardized tests of emotional intelligence. Higher tendency for emotional intelligence translates to transparency and reliability at work.
Having leaders with high emotional intelligence in the construction industry is an advantage because being able to trust each other on site is vital for establishing a safe work environment. Keeping peers alert by calling out near-misses is a common practice in the construction industry and having team members that can trust each other to communicate effectively will reduce the likelihood of any future near-misses.
Avoid groupthink by including diverse voices in discussions
When teams get together to strategize, optimize, or to reach a consensus, the most outspoken attendees can have an oversized influence.. This is a common fallacy known as groupthink, where people are reluctant to speak out against the consensus—regardless of the ideas' merit. This can be harmful to productivity if not corrected quickly.
One way to prevent groupthink is by diversifying the personalities that lead discussions. A benefit of hiring women into executive construction roles is that they communicate and bring forward a distinctive perspective that mitigates the risk of reaching consensus via groupthink.
Women Make a Positive Difference In Executive Roles for The Construction Industry
Women in construction should not be overlooked. Women bring multiple benefits to the table, such as enhanced emotional intelligence, diverse perspectives in decision making, and a fluency to communicate within a team setting. Making an active effort to include women in your job recruiting can increase the chances of finding the ideal candidate for the job because you're reducing the risk that all the applicants will hold a similar background and perspective.

Wide Effect Talent Solutions always evaluates candidates for craftsmanship, certifications, dependability and productivity. See how Wide Effect recruits, qualifies, and hires experienced women for the executives roles that your construction firm has been missing. To learn more, contact us for construction industry staffing and recruitment.
FAQ's
Q: Why aren't there more women in construction roles?
A: The construction industry, specifically executive roles, has been predominantly male for decades, and this has led to an implicit bias towards including women in the construction workforce.
Q: How many women are working in construction today?
A: Women comprise just under 11% of the entire construction industry workforce, according to the U.S. Bureau of labor statistics.
Q: Is there a gender pay gap in the construction industry?
A: Yes, according to NarrowTheGap.co women Construction Managers get paid only 86 cents for every dollar that a male earns for the same role.
A Better Way to Recruit
Are you experiencing productivity challenges, skill gaps in your workforce, or do you need a short-term placement? Don't waste your time and money navigating these alone. We bring the process, experience, and placement successes you need to make your labor force concerns a thing of the past. Call us at 1 (833) 493-5627 or use the contact form to discuss your personalized staffing solution.
By submitting this form, you opt-in and give expressed consent to receiving SMS / text messages, calls, and emails from us for the purposes of communication related to your inquiry or related to the products and or services we provide.