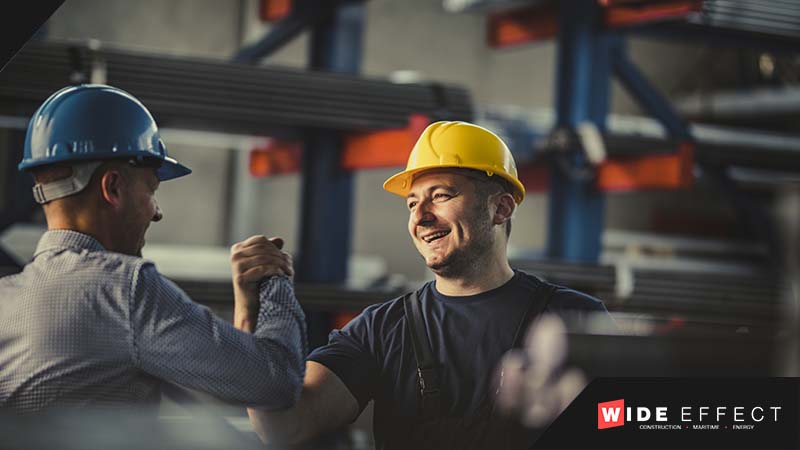 With the economy recovering, you may have found yourself scrambling to fill your roster with qualified workers to take on your next construction project. You may even have realized that your online job openings are not getting as many responses as before.
Have you considered contracting a staffing agency to take care of your recruiting needs? A staffing agency possesses unique attributes that make it particularly suited for filling up assignments in record time.
Are you a short-handed employer in the American construction sector? Connect with Wide Effect to gain access to a steady pool of qualified and reliable workers to complete your construction jobs. Your next worksite superstar could just be a phone call away!
The Benefits Of Hiring Through A Staffing Agency
Construction jobs are a different beast in comparison to your standard 9-to-5 office jobs. But what makes construction jobs special also plays in favour of staffing agencies, which are exclusively equipped to consistently find reliable skilled workers.
Here are 4 reasons as to why staffing agencies are great for hiring construction jobs:
An abundance of temporary workers: Unlike other sectors, construction is teeming with temporary openings. Seasonal limitations, paired with the per-project nature of the work, make construction jobs malleable to temporary positions. The problem is that your average candidate surfing online job boards tends to look for permanent employment.
On the contrary, workers seeking temporary employment prefer turning to staffing agencies. They know that a well-connected staffing agency can get them on a lucrative project much quicker than an in-house HR department can. As a result, staffing agencies usually have a stable pipeline of willing and proven temporary workers waiting for their next assignment.
If you need to hire temporary staff for a special contract or to simply replace other workers on leave, hitting up a staffing agency is one of the most efficient ways to do that.
A shorter recruiting process: How many times was a project delayed until the year after because the hiring process took longer than expected? For a sector with so much fluctuation and reliance on seasonal climate conditions, assembling the workforce needed for a given project as efficiently as possible is crucial.
Staffing agencies will focus their time and resources solely on attracting and recruiting the right talent. Furthermore, a staffing agency that specializes in the sector has an expansive network of applicants, both active and passive, to draw from.
Multiple purpose workers: It can be challenging to sell a multi-position job on an online job board. Yet, workers who can do a little bit of everything are the lifeblood of the construction sector. Workers who can haul heavy material one day and build something out of them on the next are just as important as your carpenters and welders.
Staffing agencies excel at supplying employers with highly versatile workers. When a staffing agency receives a candidate's application, it automatically assesses all the roles the applicant can do. Consequently, staffing agencies are usually filled to the brim with workers with a diverse skill set.
No training needed: Construction projects are time-sensitive; sometimes, you just do not have the time to train a new recruit. Would it not be nice that a talent pool consisting solely of experienced workers existed?
A staffing agency is exactly that. When it comes to temporary workers, the staffing agency takes over the entire hiring process for you. It will find, interview, and assess the candidate for you. Not only does that save you a lot of time, it also ensures that all personnel provided has already been vetted for experience and competency.
Your Construction Staffing Experts
Turning to a staffing agency can be a great solution to fill your construction staffing needs. A staffing agency usually has a number of versatile, temporary workers waiting in the wings, can guarantee a shorter recruiting process, and will reliably vet your workforce for you. All these advantages result in your construction projects getting completed quicker—without compromising on workmanship.
For a US-based staffing agency that exceeds your expectations, choose Wide Effect. We have over 60 years of experience staffing for the construction sector, and in tandem with our deep connections to the largest US construction firms, we can staff you with the best available workers on the market一every time. Call 1-833-493-5627 or fill out the online contact form to get started.
FAQs
Q: What recruiting services does Wide Effect offer?
A: Wide Effect does direct-hire recruiting, temp-to-hire recruiting, and recruitment process outsourcing (RPO).
Q: Which sectors does Wide Effect specialize in?
A: Wide Effect specializes in Construction, Maritime, Oil & Gas, Renewable Energy, and Safety Personnel.
Q: I am a job seeker. Where can I find open positions that I can apply for??
A: You can visit our current job postings here.
Wide Effect Will Resolve Your Workforce Challenges
We are the nation's top recruiting force for Construction, Maritime, Renewable Energy, Oil & Gas, and Safety Personnel. If you have staffing challenges at any level- labor to leadership, we have the solution. Connect with our recruiters in all 50 states now and learn more about our staffing blueprint for success.
A Better Way to Recruit
Are you experiencing productivity challenges, skill gaps in your workforce, or do you need a short-term placement? Don't waste your time and money navigating these alone. We bring the process, experience, and placement successes you need to make your labor force concerns a thing of the past. Call us at 1 (833) 493-5627 or use the contact form to discuss your personalized staffing solution.
By submitting this form, you opt-in and give expressed consent to receiving SMS / text messages, calls, and emails from us for the purposes of communication related to your inquiry or related to the products and or services we provide.