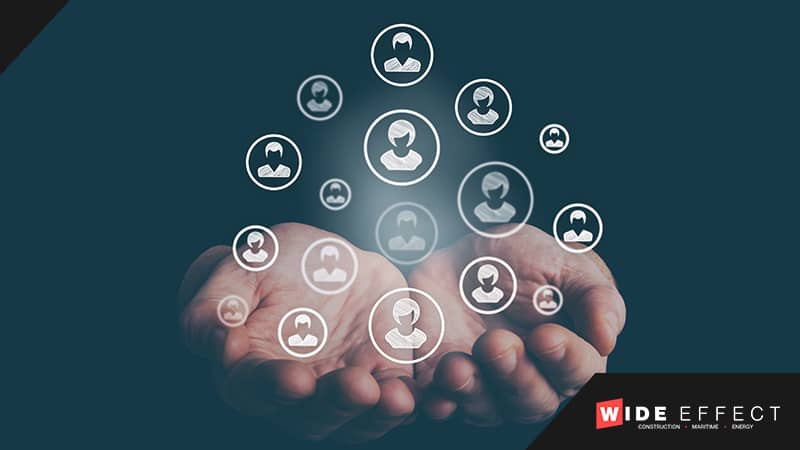 Skilled trades in the US have been facing hiring struggles since COVID-19 hit. According to the New York Times, the construction sector had 321,000 unfilled jobs in July 2021. This labor shortage is not likely to disappear anytime soon.
In response, construction companies have been increasingly relying on temp and staffing agencies to fill their construction jobs. These companies, however, soon learned that not all staffing agencies in the construction sector are the same. They also learned that the success of their partnership depended largely on fit.
The lesson is clear: pick your staffing agency wisely.
Wide Effect is a Wisconsin-based staffing agency specializing in placing temp-to-hires and direct hires in the construction sector. With more than 60 years of experience, we have the expertise to recruit for both commercial and industrial contracts.
How To Choose Your Staffing Agency Partner
Are you looking to join forces with a construction staffing agency to fast-track your hiring process? While most staffing agencies will be happy to work with you, you can save time and money by being selective in your partnership. Choosing a staffing agency that meets the specific needs of your company is the best way to hire skilled, dependable professionals in record time.
Here are some factors to think about when choosing your staffing agency partner:
Field: Construction is a broad sector, encompassing industrial, commercial, and residential subfields. Ideally, you should look for a staffing agency that matches your company's fields of work. If you take on both industrial and commercial contracts, then connecting with an agency that recruits for both could be advantageous.
Specialization: In a similar vein, prioritize staffing agencies at the same level of specialization as your company. Whereas some organizations have the resources to recruit for all kinds of workers, more niche agencies count on deep connections with one or two trades. If you are trying to fill executive-level positions, there are staffing agencies for that too.
Duration: How long you need your construction workers for can influence your staffing agency decision. If your company specializes in short-term projects that last for a few months at most, you may want to contact agencies that excel in finding temporary workers. If you are seeking permanent workers, look for recruiting firms that explicitly advertise their temp-to-hire and direct hire services.
Trustworthiness: Credibility matters for every business, and construction staffing agencies are no exception. A staffing agency that enjoys a strong reputation in the field is generally more effective and provides better client service. When unsure about the quality of a staffing agency, ask for references, check their guarantee policy, and see if it is part of a reputable professional association. Online reviews can also help you get a better grasp of a staffing agency's effectiveness.
Cost: The costs of contracting a staffing agency can vary depending on the organization. While quotes way below market prices should certainly raise eyebrows, what you are paying for is not always indicative of an agency's quality. A staffing agency that simply finds qualified workers for you, for instance, could be less expensive to hire than one that also manages your entire recruitment process (recruitment process outsourcing). How much you budget for a staffing agency is entirely contingent on your needs and priorities.
Choosing the right construction staffing agency is an exercise in introspection. It is about defining your hiring needs and identifying an organization that can meet them as closely as possible.
Wide Effect Could Be The Construction Staffing Agency You Are Looking For
The process of choosing a construction staffing agency can be simplified as such:
Define your hiring needs
Choose the right staffing agency type
Allot budget limit
Verify expertise and trustworthiness
While Wide Effect is not your typical staffing agency, we work hard to meet the increasingly high expectations of our clients. Not only do we recruit for both commercial and industrial projects, our recruiters have experience with a wide range of trades and positions, including project managers and executive leaders.
Wide Effect specializes in both temp-to-hire and direct hire placements, allowing us to fit in your timeline. We also offer recruitment process outsourcing, saving you both time and money in the long run.
Do you think Wide Effect is the right staffing agency to fill up your construction jobs? Call us at 1-833-493-5627 or fill out the online contact form to get the conversation started.
FAQs
Q: What is recruitment process outsourcing?
A: RPO is a service we offer where we manage all your recruitment activities. We effectively become an extension of your company's HR department. RPO leverages the staffing agency's expertise in the sector to hire exceptional talent while relieving pressure from your in-house HR department.
Q: Which sectors does Wide Effect specialize in?
A: Wide Effect specializes in Construction, Maritime, Oil & Gas, Renewable Energy, and Safety Personnel.
Q: I am a job seeker. Where can I find open positions that I can apply for??
A: You can visit our current job postings here.
Wide Effect Will Resolve Your Workforce Challenges
We are the nation's top recruiting force for Construction, Maritime, Renewable Energy, Oil & Gas, and Safety Personnel. If you have staffing challenges at any level- labor to leadership, we have the solution. Connect with our recruiters in all 50 states now and learn more about our staffing blueprint for success.
A Better Way to Recruit
Are you experiencing productivity challenges, skill gaps in your workforce, or do you need a short-term placement? Don't waste your time and money navigating these alone. We bring the process, experience, and placement successes you need to make your labor force concerns a thing of the past. Call us at 1 (833) 493-5627 or use the contact form to discuss your personalized staffing solution.
By submitting this form, you opt-in and give expressed consent to receiving SMS / text messages, calls, and emails from us for the purposes of communication related to your inquiry or related to the products and or services we provide.