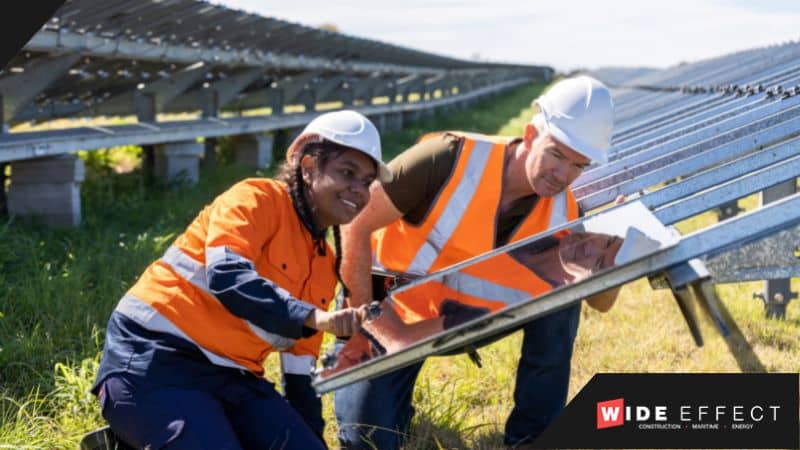 As the need for renewable energy increases in demand so does the need for qualified workers. While this offers great opportunities for the growth of renewable energy companies, it also leads to more competition among renewable energy businesses that are all trying to hire from the same pool of candidates. Renewable energy jobs are only going to continue to become increasingly difficult to fill, which is why your company needs to build a loyal and qualified workforce now and create strategies for hiring top-quality workers going forward. Tackle all of your hiring needs in one by partnering with a staffing company and working together to develop strategies such as these to interest candidates.
Attract And Retain Renewable Energy Talent By:
Showcasing Career Growth Opportunities
The renewable energy sector is expected to continue growing for many years to come, making it an ideal opportunity for workers looking to advance their construction careers. Workers are more likely to accept positions that offer sustainable renewable energy careers that will not only give them a position for their current situation but that will give them room to grow with the industry. This will interest workers while creating a team that stays loyal to the company for years to come and who will constantly work hard to prove they are deserving of promotions. When you partner with a staffing company, your business will be partnered with workers who have the same career ambitions as what your company offers. Candidates will be screened not only for their experience but also for their work goals. Only candidates who share the same values and aspirations as your company will be sent through to the interview process, saving your company time while finding loyal employees.
Offering Training And Development
Many workers from other construction jobs are now switching to renewable energy jobs. While these workers have many transferable skills, they are also looking to develop other skills specific to the field of renewable energy. If renewable energy executives want to interest these applicants, they need to start offering more training and development opportunities so that workers making the career switch feel they can excel at a renewable energy job. Workers who have the drive to continually develop their skills and improve their work are highly valuable and will be quickly recruited. To beat out the competition and hire these motivated workers to fill your company's open renewable energy jobs, partner with a staffing agency. Renewable energy staffing will place motivated workers within your company and will give your business a chance to get ahead of other renewable energy businesses. Offering training and development opportunities are a great way to attract dedicated workers, and in the current worker shortage, your business needs every opportunity to get ahead.
Advertising To Other Sectors Of Construction
As already mentioned, it is not uncommon for workers to switch from industries such as oil and gas to renewable energy. Because renewable energy will be more in demand, it makes renewable energy careers look more stable long-term. Hiring across sectors can be difficult for some renewable energy companies, as they do not have an extensive network or communication with those sectors. By partnering with a staffing agency, renewable energy executives and employers gain access to the expansive network of construction workers across many sectors.
Renewable Energy Staffing Solutions With Wide Effect
With renewable energy on the rise, renewable energy companies need to become even more competitive as workers have more options to choose from. Build a sustainable workforce now with renewable energy staffing from Wide Effect. With over 60 years of experience, Wide Effect has become a highly successful staffing agency that places qualified and motivated candidates within companies they thrive in. If your company wants to fill renewable energy jobs and keep up with growing sector demands, partner with Wide Effect for top-quality construction staffing. Call 1-262-298-0026 or fill out the online contact form to start building a stronger renewable energy workforce.
Wide Effect recruits workers from all levels of industry, from laborers to management positions.
Wide Effect has a growing proprietary database of more than 1.5 million candidates. We have premium partnerships and subscriptions that give us access to another 20 + million members of the Construction, Marine, Energy, Oil & Gas, and Safety workforce. We have a formula for strategic networking with the industry's top players. Wide Effect seeks candidates through local, regional, and national advertising campaigns and we host our own Career Opportunity website.
Wide Effect Will Resolve Your Workforce Challenges
We are the nation's top recruiting force for Construction, Maritime, Renewable Energy, Oil & Gas, and Safety Personnel. If you have staffing challenges at any level- labor to leadership, we have the solution. Connect with our recruiters in all 50 states now and learn more about our staffing blueprint for success.
A Better Way to Recruit
Are you experiencing productivity challenges, skill gaps in your workforce, or do you need a short-term placement? Don't waste your time and money navigating these alone. We bring the process, experience, and placement successes you need to make your labor force concerns a thing of the past. Call us at 1 (833) 493-5627 or use the contact form to discuss your personalized staffing solution.
By submitting this form, you opt-in and give expressed consent to receiving SMS / text messages, calls, and emails from us for the purposes of communication related to your inquiry or related to the products and or services we provide.