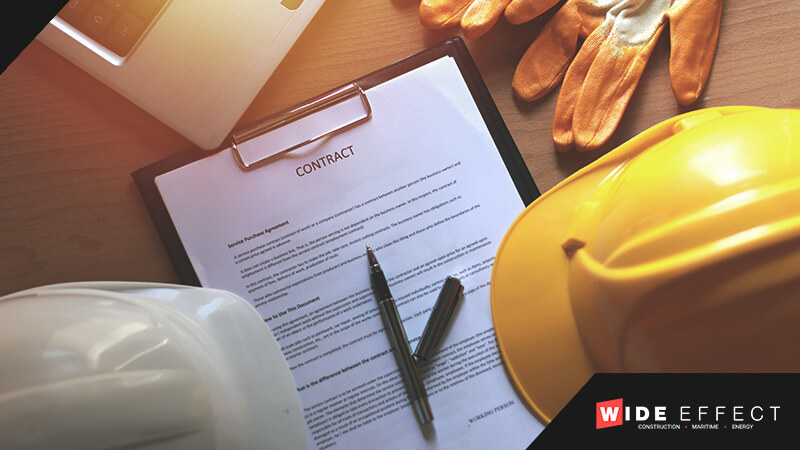 As the American economy returns to full swing, American workers have been reimagining their return to the workplace. This is especially true for construction employees, who will be returning to a sector with significant projected growth but that is struggling to attract sufficiently skilled workers.
More than ever, American construction workers are expecting more from their employers. An increasing number of skilled tradesmen understand that their knowledge, experience, and work ethic may allow them to be more selective with the types of positions they take. As a result, construction companies across the board must reevaluate their mission statements, compensation package, and hiring practices in order to meet new expectations.
Wide Effect is a staffing agency with 60 years of experience serving construction contractors and companies across the US. Connect with us to gain access to fully vetted skilled workers ready to contribute to your latest construction project.
5 Ways To Make Your Company More Attractive To Construction Workers
As the concept of the ideal employee is being redefined in the US, construction workers have begun asking for better working conditions from their employers. Companies that fail to adapt are facing difficulties in recruiting and retaining staff, while those accommodating worker expectations get to pick among the cream of the crop.
If your construction sites are not filling up as quickly as they used to, consider making changes to make your business more appealing to the best talent. Here are 5 ideas to get you started:
Focus on workplace safety: The construction sector accounts for 20% of deaths on the job, and injury rates in this sector are 71% higher than the average across all industries. Construction workers knowingly take this risk each day on the job site. Employers who take measures to improve safety protocols show that they value their workers' safety. Emphasizing communications, implementing safety technologies, regular safety drills and training on workplace hazards, and discussing long-term safety improvements can show that you truly care about creating a safe workplace. A construction company that appears safe to work for will be more successful at recruiting talent than one that does not.
Another way to set yourself apart is to support mental health, which is beginning to make its way in most workplace policies. Counting burnouts as sick days and mandating basic mental health training for your managers can go a long way in improving the morale of your employees.
Promote a culture of growth: Employees like companies in which they can see opportunities for growth and succession. Offer your employees the opportunity to go through specialized training, skill development, or education to advance to a more senior position within your organization. This ensures that your rising stars remain with you, rather than looking to fulfill their career goals elsewhere.
You can even go the extra mile by providing tuition assistance and partial reimbursements to ambitious workers who seek to improve their trade in their own time.
Show off your perks: A 2016 report found that 60% of employees consider a benefits package crucial for their job satisfaction. Disability, health, and life insurance, 401k, paid holidays, and paid sick leave are increasingly becoming standard offerings in the construction sector. How your benefits package stacks up to your competitors' can be a deciding factor in a candidate's job hunting process.
To sweeten the pot, even more, you may consider instituting a conditional signing bonus for new hires. Setting yourself back a few thousand is a small price to pay for a happy and productive employee committed for the long haul.
Impress them when they are young: The bulk of Generation Z is rapidly approaching the working age. Take advantage of this opportunity to promote your company at your local high schools and colleges. If any of these students decide to go into construction, your company will be the first to come to mind.
You can also partner up with schools and colleges to set up summer jobs, internships, and apprenticeships. Even if you do not plan to permanently hire all your trainees, valuable talent is bound to emerge from this steady stream of bright and eager students.
Contract a staffing or temp agency: A staffing or temp agency can be a great asset in helping you fill up your team. First, its ties to passive candidates uniquely position it to sway the industries' top talent. Second, a staffing or temp agency grants you access to a pipeline of carefully screened and referenced candidates一usually safer hire relative to the unfiltered applicants coming from job boards. Lastly, by taking on the recruitment process, it frees up time and resources for your business and allows you to focus on other opportunities.
A Better Strategy To Recruit The Best Construction Workers
The days of posting an online job description on a job board and waiting for applicants to pour in are over. Job seekers, including those in the construction sector, are more sophisticated and informed, and will only cast their lot with the best. They are looking for companies that care about employees, offer room for advancement, and compensate justly. Proving to candidates that you check these boxes significantly increases your chances of landing talent that is both skilled and loyal.
Are you looking for a staffing or temp agency that can take your hiring strategy to the next level? Wide Effect specializes in devising and implementing staffing solutions for the construction sector, having placed thousands of direct-hire and temp-to-hire workers to leading construction companies in the US. Partner with us by calling 1-833-493-5627 or filling out the online contact form.
FAQ
Q: What recruiting services does Wide Effect offer?
A: Wide Effect does direct-hire recruiting, temp-to-hire recruiting, and recruitment process outsourcing (RPO).
Q: Which sectors does Wide Effect specialize in?
A: Wide Effect specializes in Construction, Maritime, Oil & Gas, Renewable Energy, and Safety Personnel.
Q: I am a job seeker. Where can I find open positions that I can apply for??
A: You can visit our current job postings here.
Wide Effect Will Resolve Your Workforce Challenges
We are the nation's top recruiting force for Construction, Maritime, Renewable Energy, Oil & Gas, and Safety Personnel. If you have staffing challenges at any level- labor to leadership, we have the solution. Connect with our recruiters in all 50 states now and learn more about our staffing blueprint for success.
A Better Way to Recruit
Are you experiencing productivity challenges, skill gaps in your workforce, or do you need a short-term placement? Don't waste your time and money navigating these alone. We bring the process, experience, and placement successes you need to make your labor force concerns a thing of the past. Call us at 1 (833) 493-5627 or use the contact form to discuss your personalized staffing solution.
By submitting this form, you opt-in and give expressed consent to receiving SMS / text messages, calls, and emails from us for the purposes of communication related to your inquiry or related to the products and or services we provide.