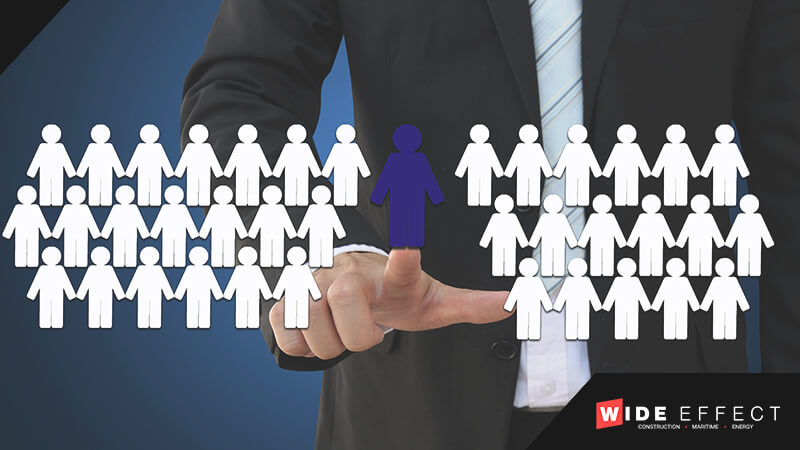 The competition to secure your industry's best talent is amping up. In this age of global recruiting, labor shortages, skill deficits, and evolving workplace technologies, a strong strategy to attract and retain top performers can make a difference in your company's race to the top. Recruitment Process Outsourcing (RPO), is a business strategy in which sourcing, recruiting, and hiring (in whole or part) is outsourced to an expert team. This staffing solution can help you streamline your hiring practices and allow you to leverage the comprehensive expertise of a skilled team of staffing professionals. An RPO strategy can be implemented in organizations of any size across a variety of sectors and offers a clear advantage for businesses struggling to attract top-level candidates and build a sustainable workforce.
A Better Way To Grow
Building and growing a committed, effective, and adaptable workforce is key to your continued operations and vital for success. But companies of every size can be challenged with unsuccessful hires, high turnover, talent gaps, productivity deficiencies. Traditional recruiting processes cost valuable time and financial resources and do not provide a comprehensive strategy to address these challenges. Recruitment Process Outsourcing is a cost-saving and effective staffing solution that provides adaptability, productivity, flexibility, and sustainability in your hiring processes.

The First Challenge
When companies use a traditional hiring model with a focus on filling a position, their staffing process can become very shortsighted: when you hire just to fill a role you miss an opportunity to develop a comprehensive strategy to develop a sustainable workforce. A skilled RPO provider can utilize talent analytics to evaluate the current talent supply and demand, market compensation norms by industry, department, role, and geography. Your RPO team should work to understand your organizational workflow and mission to develop a staffing plan for today and a robust strategy to forecast future workforce trends. Working with an RPO team helps you to complete a successful hire now and build off of that experience to elevate your workforce as your company evolves and grows.

The Benefits of RPO
There are several benefits to contracting your hiring processes. Recruitment Process Outsourcing bridges the gap between traditional recruiting practices and current hiring demands. Here is what RPO can do for your company:
Source Candidates With Efficiency: With industry technologies, vast networks, and global talent pipelines, an RPO can source candidates with an efficiency not possible for most in-house recruiting managers. A skilled RPO team will develop targeted sourcing strategies to address the needs of specific industries or functions, including recruitment marketing, talent pipelining, screening/assessment, predictive analytics, and talent advisory solutions such as employer branding, talent analytics, and recruitment messaging.
Reduce Hiring Costs and Timelines: Outsourcing all or even a portion of your recruiting needs to an RPO eliminates the need to maintain a full-time, in-house recruiting division and will lower your cost-per-hire. And with access to the recruiting technologies, industry expertise, a vast talent pool, and a broad referral network, an RPO team will significantly reduce the amount of time it takes to fill each open position.
Streamline Recruiting, Screening, and Offer Management: An RPO team will have a proven process for recruiting passive and active candidates to find the best talent for the job. An RPO strategy will have rigorous screening methods including skill assessments, behavioral and personality evaluations, and interviews. This creates a pool of candidates evaluated to be a good fit both for the role and for your company. Screening for soft skills is an important part of this process, ensuring that clients receive a carefully curated list of candidates who fit well within the culture of the company. Then the RPO provider will advocate for you acting as your representative, promoting a consistent brand message, scheduling interviews, handling salary negotiations, and maintaining tight quality control.
A Comprehensive and Accountable Strategy: An RPO will be able to assess your current workforce, understand your business goals, find gaps in productivity and streamline an approach that will address all of your current staffing challenges with a thoughtful strategy to achieve growth. Your RPO team should remain accountable to you, providing regular analysis of recruiting metrics such as cost-per-hire, time-to-fill, retention rates, productivity, recruiting process conversion rates, and more.

The Wide Effect Difference
Wide Effect Recruitment Process Outsourcing is designed to integrate with your business, build on your company culture, and fine-tune your recruiting process in order to deliver high-quality candidates that will integrate seamlessly into your workflow and company culture. With an exceedingly customizable approach, The Wide Effect Recruitment Process Outsourcing team will:
Scale Solutions to Meet Your Needs: Tailored solutions will find and assess the ideal candidate to meet your workforce needs whether you are hiring for 10 or 10,000 positions.
Reduce Cost-Per-Hire: Outsourcing all or even a portion of your recruiting needs to the Wide Effect RPO team eliminates the need to maintain a full-time, in-house recruiting division and will lower your cost-per-hire.
Reduce time-to-fill: With access to the best-recruiting technologies, industry expertise, a vast talent pool, and a broad referral network, the Wide Effect RPO team will significantly reduce the amount of time it takes to fill each open position.
Design Custom Solutions: Whether you want to supplement your current recruiting efforts or outsource recruitment entirely, an RPO provider can develop a targeted solution. Our Wide Effect RPO team creates solutions that are customized to meet the needs of your organization.
As one of the most effective recruiting solutions on the market, Wide Effect RPO strategies deliver the talent you need to remain competitive in your industry and in today's market. To explore the benefits of an RPO strategy for your business, connect with our expert team at Wide Effect and begin the journey to build your best workforce today.
FAQs
How is RPO different from a traditional staffing model?
RPO providers manage a clients' entire recruitment cycle operating as an integrated partner in the process. Staffing agencies, which operate on a reactive recruitment model, work on a requisition-to-requisition basis often hiring temporary or temp-to-permanent employees.
The Wide Effect RPO model offers comprehensive and distinctive staffing solutions designed to synthesize seamlessly into your organization's workflow.
Can an RPO provider work with our existing Human Resources team?
Recruiting Process Outsourcing can provide customized solutions that work specifically for you. The RPO team at Wide Effect is positioned to integrate seamlessly with your existing recruiting team to minimize interruptions or to completely assume responsibility for your hiring process and ease the strain on your team.
Will RPO cost me more?
Recruitment Process Outsourcing will actually save you money reducing your cost-per-hire, eliminating costs associated with unsuccessful hires, minimizing interruptions to workflow and productivity, and freeing up your personnel resources to focus on more effective tasks.
Wide Effect Will Resolve Your Workforce Challenges
We are the nation's top recruiting force for Construction, Maritime, Renewable Energy, Oil & Gas, and Safety Personnel. If you have staffing challenges at any level- labor to leadership, we have the solution. Connect with our recruiters in all 50 states now and learn more about our staffing blueprint for success.
A Better Way to Recruit
Are you experiencing productivity challenges, skill gaps in your workforce, or do you need a short-term placement? Don't waste your time and money navigating these alone. We bring the process, experience, and placement successes you need to make your labor force concerns a thing of the past. Call us at 1 (833) 493-5627 or use the contact form to discuss your personalized staffing solution.
By submitting this form, you opt-in and give expressed consent to receiving SMS / text messages, calls, and emails from us for the purposes of communication related to your inquiry or related to the products and or services we provide.