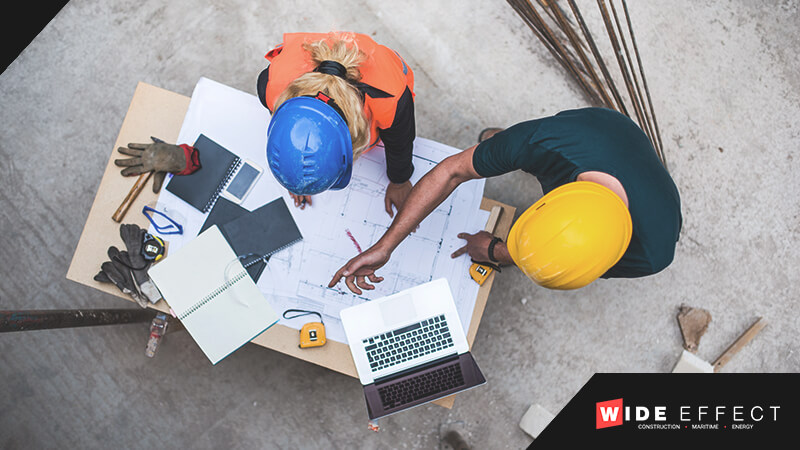 Is your company ready to reap the benefits of a rapidly burgeoning maritime construction and shipbuilding industry?
Increasing maritime trade and growing global consumption mean that maritime construction and shipbuilding companies around the world will be struggling to distinguish themselves from the pack.
Innovative staffing solutions are an effective and economic way to achieve this. Whether it's through direct-hire, temp-to-hire, or recruitment process outsourcing, a sector-specific recruitment firm can help you find the qualified people to eclipse your rivals.
Taking Advantage Of Projected Growth In The Shipbuilding Industry
The shipbuilding industry is expected to increase its market value from US $126 billion to US $167 billion. While COVID-19 has delayed this growth by temporarily shutting down maritime construction in some countries, the pandemic has done nothing to stem increasing maritime trade, rising consumption, and the demand for climate-friendly ships and services in the long run.
As maritime trade becomes even more ubiquitous, the shipbuilding industry will be in overdrive to deploy large tankers and cargo freights to meet surging demands. Maritime construction organizations around the world will be redoubling their efforts to seize opportunities that will arise from this.
Don't be left in the dust.
Wide Effect offers best-in-class maritime staffing solutions for shipbuilding and maritime construction jobs. Our 60 years of combined experience make us uniquely qualified to provide you with high-performing technicians and shipwrights to help you to outpace your competitors.
Learn more about our staffing and recruiting services by calling (262) 298-0026 or filling out the online contact form.
Staffing Solutions For The Booming Shipbuilding Industry
According to the latest reports, maritime trade accounts for four-fifths of global trade. As consumption and demand in developing countries increase, maritime trade is expected to grow even more prominent.
The influence of maritime trade on the global market means that shipbuilding and the maritime construction industry in general will be working overtime to provide much-needed sea transport.
Current projections show that the Asia-Pacific is best poised to benefit from this maritime revolution. Shipbuilding heavyweights like South Korea, China, and Japan are likely to continue their dominance in this sector.
This doesn't mean that you can't compete against them, however.
Here's how proper maritime staffing solutions can give you a competitive edge against these shipbuilding giants:
Direct-Hire recruiting solutions: Talent acquisition specialists can assess your existing team and identify gaps that hinder productivity and adaptability. Once avenues of improvement have been identified, these HR professionals can devise a staffing strategy that provides you with the best value for money.

The recruiting firm can then leverage its extensive network in maritime construction to find you the most qualified marine technicians and workers. Rigorous screening and assessment ensures that your future team will consist entirely of trustworthy professionals with impeccable track records.

Direct-Hire is the perfect solution to assemble a durable team primed for long-term challenges.

Temp-to-Hire recruiting solutions: Looking to tackle a special project that your team cannot handle or to fill the void left by a highly valuable member on an extended leave? Then a temporary staffing solution is perfect to keep you in the competition.

Maritime construction and shipbuilding careers are highly flexible, so a reputable recruiting firm in this sector should know many contractors and temporary workers are just waiting to jump on the next exciting opportunity.

A strong temp expert can be the difference between winning a multimillion-dollar contract over your direct competitors and or losing a bid at the procurement stage.

Recruitment Process Outsourcing: An outdated talent acquisition and management process may be keeping you from competing with the major players in the maritime construction and shipbuilding sector. Perhaps the best employees are choosing a competitor simply because your hiring practices cannot identify them.

The best-recruiting firms in this sector know how to spot a superstar before they're even thinking about changing firms. By seamlessly integrating with your company culture and workflows, these organizations can market your business in a way that specifically attracts the candidates that it needs. A revamped recruitment process can go a long way in giving you an edge over your competitors.
Building The Right Team For The Future
Thanks to continued growth in maritime trade, employment in the maritime construction and shipbuilding sector will surge. Bids for high-paying contracts will multiply and the demand for your products and your services will be at their highest.
The last thing you'd want to happen is to be stuck with an inadequate staff that can't take advantage of these opportunities.
Implementing your firm with stout staffing solutions can help you avoid this outcome. See how you can future-proof your company by contacting talent acquisition experts at Wide Effect. Call (262) 298-0026 or fill out the online contact form to begin assembling your dream team today!
FAQs
Q: Who are the largest players in the shipbuilding market?
A: The 5 largest shipbuilding companies are the following:
Mitsubishi Heavy Industries Ltd. (Japan)
Hyundai Heavy Industries Co. Ltd. (South Korea)
China State Shipbuilding Corporation (China)
Daewoo Shipbuilding & Marine Engineering Co., Ltd. (South Korea)
Samsung Heavy Industries (South Korea)
Q: What is the market share of the US shipbuilding industry?
A: The US ranks 19th in the world for commercial shipbuilding. The US constructs approximately 0.35% of the world's new ships.
Q: What is the salary of the average maritime construction worker in the US?
A: The average salary of a maritime construction worker in the US is US $36,943 per year.
A Better Way to Recruit
Are you experiencing productivity challenges, skill gaps in your workforce, or do you need a short-term placement? Don't waste your time and money navigating these alone. We bring the process, experience, and placement successes you need to make your labor force concerns a thing of the past. Call us at 1 (833) 493-5627 or use the contact form to discuss your personalized staffing solution.
By submitting this form, you opt-in and give expressed consent to receiving SMS / text messages, calls, and emails from us for the purposes of communication related to your inquiry or related to the products and or services we provide.