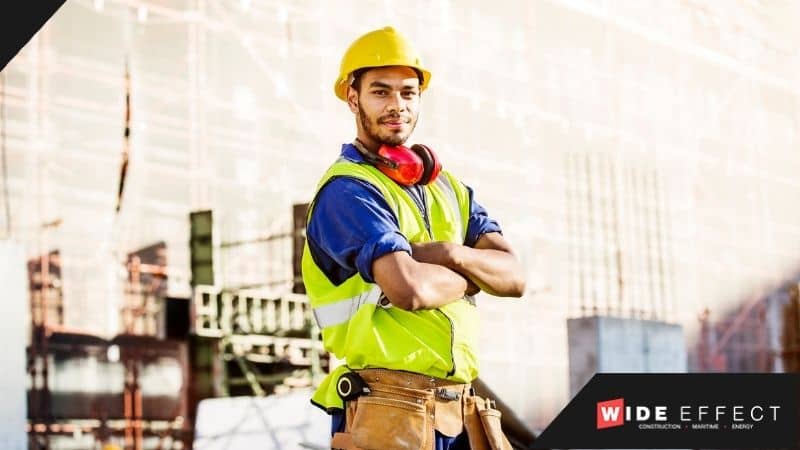 The best way to advance your construction career is to ensure you are considered a valuable worker. Advancing your construction career isn't only about developing and evolving your skills, although that's certainly an important element, it is also about getting noticed by the construction executives. There are steps you can take that make you stand out and establish a positive reputation. Doing your job well is the expectation of every worker so if you want to get noticed you need to find ways to go above and beyond and to show you are making your company a better place to work and are increasing company profitability. Here are 6 ways you can advance your construction career.
6 Ways To Ensure You Are Considered A Valuable Worker
1. Maintain A Positive Attitude
It might sound cliché, but keeping a positive attitude is immensely beneficial. Staying positive can improve your own work, but it will also help to motivate those around you while reducing workplace tension. This can make projects go smoother and help the whole crew perform better. Showing motivation, determination, and a level head will influence those around you and it will make you stand out as a leader and team player. These attributes are highly valuable to employers and show that you are someone willing to go above and beyond, which can help you garner more career opportunities.
2. Follow Safety Rules
Safety should always be top priority. Not only should you always stay on top of safety protocols, but you should also be looking for ways to improve safety standards while looking out for the safety of others. If you notice anything that could be a potential hazard, fix it right away or notify the correct people to resolve the issue. Stay up-to-date on first aid training and consider extra first-aid classes when available. This shows a dedication to your fellow workers and it shows the company that you are worth keeping around.
3. Put In The time
Sometimes jobs will run late, but staying to help finish up shows your commitment and will garner appreciation from other workers and employers since it makes everyone else's jobs easier. Showing up early also demonstrates initiative and implicitly shows that you are interested in and dedicated to your work.
4. Stay On Time
Putting in any needed extra work time is great, but it's even better if that time is not needed. Completing tasks on time shows that you're an effective worker and it saves the company money by reducing costs associated with unnecessary overtime. Having a comprehensive understanding and overview of the timeline and keeping that in mind while you do projects will help to keep you on track.
5. Take On Responsibilities
Don't be afraid to take on more responsibilities, even if it seems stressful or intimidating. Take some time to do research outside of work or even complete training courses that can expand your knowledge. The more you can do for your company, the more valuable you become. Learning new skills and taking on more roles will show you are a dedicated worker, are capable of growth, aren't afraid of taking on the responsibilities that come with more advanced (and higher-paid) positions, and that you're willing to put in effort for your crew and company to succeed.
6. Establish Relationships
Having a network of people within the construction industry is invaluable. The more people you know, who like you, and who think you're a good worker, the more likely it is that your name will come up when positions or contracts are being discussed. It's not enough to be a good worker, you also need to show people that you are the type of person they want to work with, so don't forget to be pleasant and to introduce yourself to anyone new. If you are fairly new to construction or have recently switched fields or locations, there are construction staffing agencies that can help you gain access to construction personnel networks.
Advance Your Construction Career With Construction Staffing
A construction staffing company can help you get noticed by the right employers who value your skillset and offer opportunities for you to grow your construction career. Getting noticed by construction executives may be difficult, but when you join the Wide Effect roster of employees, you automatically gain access to our network of construction professionals. You also gain the benefit of credibility as partnering with Wide Effect shows you have made it through the vetting process. Wide Effect is a trusted construction staffing company that matches workers and employees for seamless integration. To find a construction job that utilizes your unique skill set, join the Wide Effect roster by calling 1-262-298-0026, filling out the online contact form, or by filling out the application form.
If you are looking for a position utilizing your trades skills, Wide Effect has a variety of current job postings for you to look at. Don't see anything that fits? Be sure to join our employment database and we will contact you when opportunities arise.
No, those seeking work don't have to pay to become a part of the global talent roster at Wide Effect.
We are a global recruiting and staffing solutions firm that offers services in multiple trades, including construction, maritime, oil and gas, renewable energy, and safety personnel. Our staffing agency does direct-hire recruiting, temp-to-hire recruiting, and recruitment process outsourcing.
Wide Effect Will Resolve Your Workforce Challenges
We are the nation's top recruiting force for Construction, Maritime, Renewable Energy, Oil & Gas, and Safety Personnel. If you have staffing challenges at any level- labor to leadership, we have the solution. Connect with our recruiters in all 50 states now and learn more about our staffing blueprint for success.
A Better Way to Recruit
Are you experiencing productivity challenges, skill gaps in your workforce, or do you need a short-term placement? Don't waste your time and money navigating these alone. We bring the process, experience, and placement successes you need to make your labor force concerns a thing of the past. Call us at 1 (833) 493-5627 or use the contact form to discuss your personalized staffing solution.