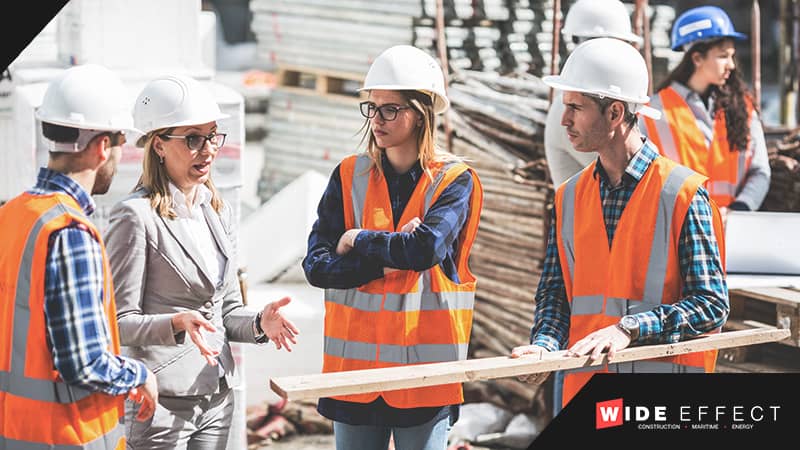 The need for construction workers is expected to increase in the next several years and yet there is already mounting concern that there will not be enough skilled construction workers to meet demands. Establishing a construction career now and honing your skills may mean more work opportunities and a stable career in a field that will continue to demand skilled workers. Whether you are new to construction, you're a seasoned worker, or you have goals of becoming a construction executive, finding the right career path starts with the knowledge of which positions have the most potential for growth.
Rapidly Growing Construction Careers
Project Managers
This position is geared toward construction executives and those who already have established construction careers. A project manager oversees the entire project and communicates with the architects or owners and the construction crew. This position assumes much responsibility by keeping track of costs, progress, issues, and more, and then reporting them. The project manager ensures the project is progressing according to schedule and on budget.
Construction Equipment Operator
Construction has a wide range of specific equipment that needs trained, skilled operators. Construction equipment operators know how to operate bulldozers, road graders, trench excavators, backhoes, loaders, tower cranes, and more. This position can be learned through on-the-job training or apprenticeships and it offers an excellent opportunity for those who are just starting to build their construction careers.
Plumbers
This construction job is always needed for both residential and commercial projects. Plumbers need to be able to map out where pipes will go in a new build as well as solve plumbing issues and perform maintenance in buildings with already established pipes. This highly physical job demands great problem-solving skills and the ability to adapt to working alone or in a group depending on the size of the project.
Masons
This position is integral to new builds, as masons are responsible for creating walls out of bricks and concrete. This position can require lots of intricate detail work, as clients may want decorative plaster or the incorporation of other materials, such as glass or synthetics. If intricate brickwork or the aesthetic of the walls interests a person, they can specialize in those areas for a more artistic construction career.
Elevator Installers And Repairers
Although the name specifies elevators, this position also works with escalators and moving walkways to install and maintain these devices. All installations and repairs must be up to safety standards and all services documented.
Glaziers
This is the title given to those who install glass in buildings. This job requires precision and strength as glaziers have to cut glass to size and then lift and place glass into position, often while they are outside. This position requires minimal qualifications and can be a great way to get into a construction career.
Solar Photovoltaic Installers
This position is expected to grow as the need for green energy is further realized. A solar photovoltaic installer may install solar panels either on residential or commercial buildings, typically on roofs or other unobscured locations where solar energy can be easily gathered.
Ironworkers
These workers need to determine where iron fits in the building and to then attach it using welding, bolts, and wires. A great way to begin a career as an ironworker is by apprenticing for several years.
Construction Laborers
Workers with this title do a variety of important tasks, many of which require physical strength. Construction laborers often prepare sites before a project and clean up after, as well as move materials, perform demolition and excavation, and more. This position often utilizes skills that are learned on the job and this construction job is great for those who are beginning their construction careers. Once the general skills are learned, a person can then specialize in a specific area.
Civil Engineers
This position often requires a degree and an engineering license. This position is instrumental to the planning of a project, as civil engineers are responsible for conducting building material and soil tests, creating cost estimates, using design software, and more.
Grow Your Construction Career With Wide Effect
These fast-growing careers are a good opportunity for those who are interested in construction, but you will still need a competitive edge to land the best construction jobs. Finding a position with a reliable company where you can integrate seamlessly can be difficult alone, but when you partner with a construction staffing company, our team will ensure we are placing you with a company that utilizes your skills. Wide Effect has over 60 years of experience matching workers of all skill levels with reputable companies. If you are seeking a construction career, Wide Effect can help. Join the Wide Effect roster of employees by calling 1-262-298-0026 or filling out the online contact form.
No, those seeking work don't have to pay to become a part of the global talent roster at Wide Effect.
You can visit our current job postings here.
We are a global recruiting and staffing solutions firm that offers services in multiple trades, including construction, maritime, oil and gas, renewable energy, and safety personnel. Our staffing agency does direct-hire recruiting, temp-to-hire recruiting, and recruitment process outsourcing.
Wide Effect Will Resolve Your Workforce Challenges
We are the nation's top recruiting force for Construction, Maritime, Renewable Energy, Oil & Gas, and Safety Personnel. If you have staffing challenges at any level- labor to leadership, we have the solution. Connect with our recruiters in all 50 states now and learn more about our staffing blueprint for success.
A Better Way to Recruit
Are you experiencing productivity challenges, skill gaps in your workforce, or do you need a short-term placement? Don't waste your time and money navigating these alone. We bring the process, experience, and placement successes you need to make your labor force concerns a thing of the past. Call us at 1 (833) 493-5627 or use the contact form to discuss your personalized staffing solution.