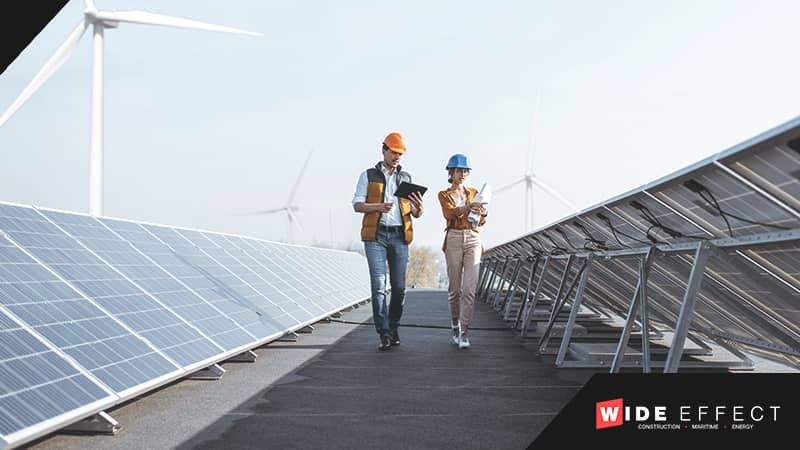 As the use of fossil fuels is increasingly understood as a major contributor to the climate crisis, it is becoming apparent to energy companies, nations, and even the average household that the demand for renewable energy will continue to increase. This makes the renewable energy sector an invaluable industry with great potential for job security and growth. Joining the renewable energy sector now is a great investment in your future, as your career opportunities will increase with years of experience as this desirable field continues to expand. For those who are seeking renewable energy construction jobs that can build their construction career going forward, consider these entry-level positions in this cutting-edge field.
Construction Jobs For Those Getting Into The Field
While there are many great renewable energy careers available, these are some positions that can help get you the experience you need to grow your career while doing important work for the renewable energy sector.
Wind Turbine Technician
The main tasks for this position are to install, maintain, and repair wind turbines. This position requires working in small spaces, outside, and at great heights, as maintenance will sometimes be required near the blades of the turbine. This construction job is a great opportunity for those who are just starting to build their construction careers, as it only requires a high school diploma.
Sales Consultant
Those in this position work with clients to help them replace their non-renewable forms of energy with clean renewable energy. Often, the key highlights that entice customers are the money-saving benefits of renewable energy options for the home. This position requires great people skills and effective communication and only requires a high school diploma.
Renewables Estimator
This position requires you to develop and complete estimates for utility-scale solar and battery storage systems. This position requires a high school diploma or equivalent as well as 3 to 5 years of experience within the solar or renewable energy sector.
Internships
These positions are a great way to get your start in an industry and can lead to rewarding construction careers once the internship is completed.
Field Intern
This role gives hands-on and general experience, making it a great opportunity to explore different renewable energy career paths. Field interns work with staff in all positions and complete construction change orders, assist with purchase orders, and participate in subcontractor meetings and correspondence. Field interns will also get a chance to work in field operations and management, safety, electrical engineering, and quality management.
Renewable Energy Asset Management Intern
As a part of the asset management team, you will oversee the renewable energy facilities to ensure contractual compliance and administration while completing operational reviews and analysis. To apply for this internship, you need to be in or beyond your sophomore year of a Bachelor of Science program and have a focus on renewable energy.
Sales Intern
This position is typically given to a person with a degree in sales, business, or marketing, as it requires the skills learned in these programs. Sales interns typically help bring in customers by developing sales presentations, contacting potential clients, determining client needs, and explaining the benefits of renewable energy products and services to potential clients.
Find Renewable Energy Construction Jobs With Wide Effect
If you want to join a forward-thinking workforce that can offer effective and sustainable renewable energy solutions for the future, become a part of the global talent roster at Wide Effect. Renewable energy construction careers are highly competitive and you need the help of a renewable energy staffing agency that has a network of specialists working with you. Wide Effect is a staffing agency with over 60 years of experience matching qualified candidates with reputable companies. If you want to find a company that will leverage your skills within a healthy workplace culture, call Wide Effect at 1-262-298-0026 or contact us using the online contact form.
No, those seeking work don't have to pay to become a part of the global talent roster at Wide Effect.
You can visit our current job postings here.
Wide Effect Will Resolve Your Workforce Challenges
We are the nation's top recruiting force for Construction, Maritime, Renewable Energy, Oil & Gas, and Safety Personnel. If you have staffing challenges at any level- labor to leadership, we have the solution. Connect with our recruiters in all 50 states now and learn more about our staffing blueprint for success.
A Better Way to Recruit
Are you experiencing productivity challenges, skill gaps in your workforce, or do you need a short-term placement? Don't waste your time and money navigating these alone. We bring the process, experience, and placement successes you need to make your labor force concerns a thing of the past. Call us at 1 (833) 493-5627 or use the contact form to discuss your personalized staffing solution.
By submitting this form, you opt-in and give expressed consent to receiving SMS / text messages, calls, and emails from us for the purposes of communication related to your inquiry or related to the products and or services we provide.