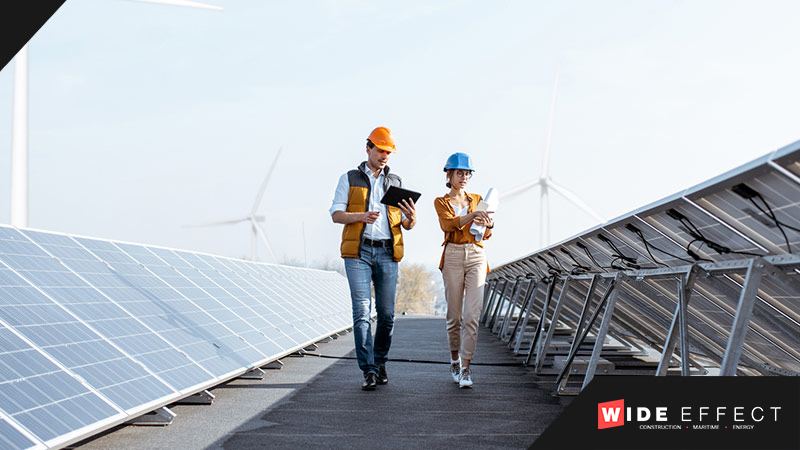 According to the US Chamber of Commerce's Commercial Construction Index (CCI), 83% of contractors report moderate to high levels of difficulty in finding skilled workers, and 39% of contractors report having to turn down work due to skilled labor shortage. Securing the top talent in the construction industry has become more and more competitive. Using recruiting services can guarantee access to the best of the best, but in this highly competitive market, your organization must position itself to be viewed as one of the industry's MVEs (Most Valuable Employers). Setting yourself apart depends on more than offering the best pay. You must have an effective strategy to identify and attract the industry's top performers.
Building With the Industry's Best
Construction staffing is challenging. To fulfill your contracts and deliver your projects to standard and on time, you need a reliable, proficient, experienced crew you trust.
So what can your organization do to ensure you are attracting the most skilled, experienced, highest performing senior level, mid-management, and skilled labor in the market? Here are three key ways to rise above your competitors and build your team with the industry's best.
Recruit the Finest With Leading Edge Practices
1. Understand the Goals and Values of Your Workforce and Develop Outstanding Employment Packages.
According to a Glassdoor Employment Confidence Survey, 80% of employees would choose additional benefits over higher pay. Some things to consider when designing attractive hiring packages for new recruits:
Opportunities for Training and Career Development/ Certification- Emphasize in-house certification programs or cost-sharing opportunities.
Job Security- Highlight your upcoming projects to ensure continuity of employment.
Succession Planning- Provide concrete benchmarks to assure upward mobility.
Access to Mentorship- A strong Mentorship Program allows longer-term employees to showcase their experience and wisdom, and allows newer hires to feel confident they have a resource for their own success.
Positive Workplace Culture- Put the spotlight on any unique and distinctive features of your workplace. Retreats, team-building events, group lunches, performance reward programs, and work/life balance are all benefits that attract the most qualified employees.

2. Have a Robust and Strategic Onboarding Process.
Have a streamlined onboarding process and a definitive plan that you can communicate to potential hires. This instills confidence in your organization's professionalism, efficiency, productivity, and success.
Have Consistent Communication- From the time you have an accepted employment offer through the first days make sure you communicate timelines, important considerations, and updates consistently.
Set Clear Expectations Early/ Encourage and Praise Often- Success is probable when a new hire knows exactly what is expected and even their earliest efforts are acknowledged.
Complete Paperwork and HR Requirements Quickly- Ensure a new hire completes all forms necessary to receive pay and benefits, fills out all waivers, and signs off on all agreements so there are no delays, and frustrations do not arise.
Be Welcoming and Available- make sure your new hire knows they can come to you or to designated team members with questions and concerns.

3. Find and Use the Best.
You wouldn't hire a plumber to fix an elevator, or an IT tech to pour concrete footings. Your success is dependant on hiring the best specialists to get the job done. Although it may seem easy enough to place an ad, or list an opening on one of the hundreds of job boards available, partnering with a skilled and experienced recruiter can give you access to resources to build a productive and profitable construction workforce. The benefits of this partnership include:
Insight to identify and address gaps in talent and productivity
Access to a nation-wide pool of top candidates
Knowledgeable practices for assessing and interviewing prospects
Negotiating employment contracts
Mitigating costs associated with failed hiring and high turnover
You Don't Have to Do It On Your Own
Set yourself apart from your competitors by having strategic and thoughtful recruiting and hiring practices. Understand your workforce and build comprehensive packages to attract the top talent for your team. Working with the experienced and knowledgable recruiters at Wide Effect gives you the market insight to workforce trends, access to a network of the nation's most skilled construction workforce, and the expertise to find and attract the best candidates to your organization.
Reach out to us to:
Analyze your current workforce and identify talent gaps and labor inefficiencies.
Create a staffing solution tailored specifically for you with detailed strategies to address all workforce challenges.
A targeted search for the talent you need and a meticulous screening and assessment process.
The presentation of a carefully curated selection of amazing candidates, support through the hiring process, and a lasting rapport with you and your hire to ensure the continued success of you both.

Team up with Wide Effect and take advantage of our 60+ years of Construction Industry Recruiting so you can focus on your business knowing you have a strong labor force backing you up, contact us today to get started!
Wide Effect Will Resolve Your Workforce Challenges
We are the nation's top recruiting force for Construction, Maritime, Renewable Energy, Oil & Gas, and Safety Personnel. If you have staffing challenges at any level- labor to leadership, we have the solution. Connect with our recruiters in all 50 states now and learn more about our staffing blueprint for success.
A Better Way to Recruit
Are you experiencing productivity challenges, skill gaps in your workforce, or do you need a short-term placement? Don't waste your time and money navigating these alone. We bring the process, experience, and placement successes you need to make your labor force concerns a thing of the past. Call us at 1 (833) 493-5627 or use the contact form to discuss your personalized staffing solution.