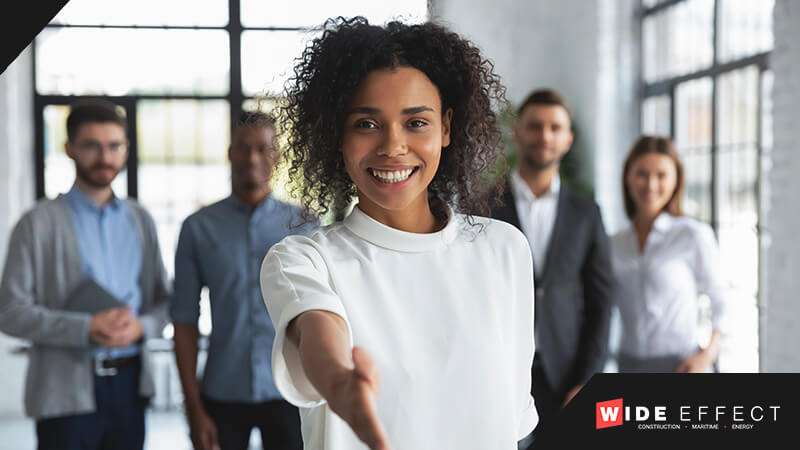 The American job market is notoriously brutal to newcomers, as even the most basic entry-level jobs seem to require a number of years of experience. A new job seeker can linger on the job market for months on end, never getting past initial screenings and first-round interviews.
An effective way of breaking through the "need experience to gain experience" threshold is to look for a temp or temp-to-hire job. These roles have generally lower requirements compared to permanent positions while providing the same valuable on-the-job experience. A temporary contract can be the boost a newcomer needs to become competitive in the job market in the months or years to come.
Are you looking for your first temp or temp-to-hire job? Wide Effect is a Wisconsin-based staffing agency with 60 years of experience placing fresh recruits in temp and temp-to-hire positions in the construction, maritime, oil & gas, renewable energy, and safety sectors. Connect with us so we can help you find your first job right away!
Benefits Of A Temp Or Temp-To-Hire Job
Temp or temp-to-hire jobs are sometimes neglected in favor of permanent appointments in the job hunt一even by job seekers. Far from a last resort, stopgap measure, temporary placements can be extremely valuable to one's career.
Here is what happens when you work at a temp or temp-to-hire job for some time:
Improve your resume: A temporary gig in your sector of work is probably the most powerful line in your resume so far, trumping even your education.
Temp work shows your future employers two things. First, it indicates that you have done some hands-on work and gained familiarity with the competencies necessary to succeed in your sector. This experience instantly makes you a better hire than applicants coming straight out of school.
Second, it demonstrates that you are proactive一that you are open to learning new skills instead of idly waiting for better opportunities to present themselves. Most employers view such initiative favorably in the application process.
In addition to impressing your employers, temp work is also useful for minimizing employment gaps. Employers tend to think of candidates with lengthy periods of inactivity as unemployable. As someone who is just starting out, you should avoid this stigma at all costs.
Make connections: A temporary placement is a great way of meeting colleagues and higher-ups in the same field as you. With a bit of luck, connections can help you land jobs you would otherwise not even know of.
Transition into a permanent role: If you are fortunate enough to work a temp-to-hire job, you have a real chance of landing a permanent role at the end of the contract.
Employers sometimes offer temp-to-hire work to try out new hires and to minimize costs. By excelling at your temporary position, you are directly showing them how valuable you could be if you were to join their team permanently.
Why Get Your Temp Or Temp-To-Hire Job Through A Staffing Agency
While temp or temp-to-hire jobs can be highly beneficial to your career, such opportunities can be difficult to find through conventional means.
One surefire way of getting your first temp or temp-to-hire job, however, is to work with a staffing agency. Indeed, staffing agencies are often partnered with large companies and serve as a purveyor of temp or temp-to-hire workers. In fact, many of these companies source these contract workers uniquely from recruiting organizations.
Furthermore, staffing agencies often offer temp and temp-to-hire positions directly. This means that your employer could be the staffing agency一even if you are doing work for the client company. Having the staffing agency as your employer can be advantageous, as the hiring process will be significantly streamlined. Your staffing agency will take care of all interviews and skills assessments without involving the client company.
Strong performance as an agency-employed temp or temp-to-hire workers means your staffing agency is more likely to go above and beyond in helping you find a permanent job once your contract ends.
A Temp Or Temp-To-Hire Job Could Be What You Need
A non-permanent position is not what most new job seekers have in mind when entering the job market, but it could be what they need to become competitive in their search.
Working at a temp or temp-to-hire job can considerably boost your resume, granting you new hands-on skills, and minimize your employment gaps. It is also an opportunity to make connections and to transition to a permanent role.
Are you sold on a temp or temp-to-hire jobs? Join with Wide Effect, a Wisconsin-based staffing agency, to jumpstart your career on a temporary basis. You would be glad to know that 95% of our temp-to-hire workers become permanent employees by the end of their term. Call us at 1-833-493-5627 or fill out the online contact form to get started.
FAQs
Q: How much does it cost to find a temp or temp-to-hire job through a staffing agency?
A: Working with a staffing agency is free for the job seeker.
Q: Which sectors does Wide Effect specialize in?
A: Wide Effect specializes in Construction, Maritime, Oil & Gas, Renewable Energy, and Safety Personnel.
Q: I am a job seeker. Where can I find open positions that I can apply for??
A: You can visit our current job postings here.
Wide Effect Will Resolve Your Workforce Challenges
We are the nation's top recruiting force for Construction, Maritime, Renewable Energy, Oil & Gas, and Safety Personnel. If you have staffing challenges at any level- labor to leadership, we have the solution. Connect with our recruiters in all 50 states now and learn more about our staffing blueprint for success.
A Better Way to Recruit
Are you experiencing productivity challenges, skill gaps in your workforce, or do you need a short-term placement? Don't waste your time and money navigating these alone. We bring the process, experience, and placement successes you need to make your labor force concerns a thing of the past. Call us at 1 (833) 493-5627 or use the contact form to discuss your personalized staffing solution.
By submitting this form, you opt-in and give expressed consent to receiving SMS / text messages, calls, and emails from us for the purposes of communication related to your inquiry or related to the products and or services we provide.