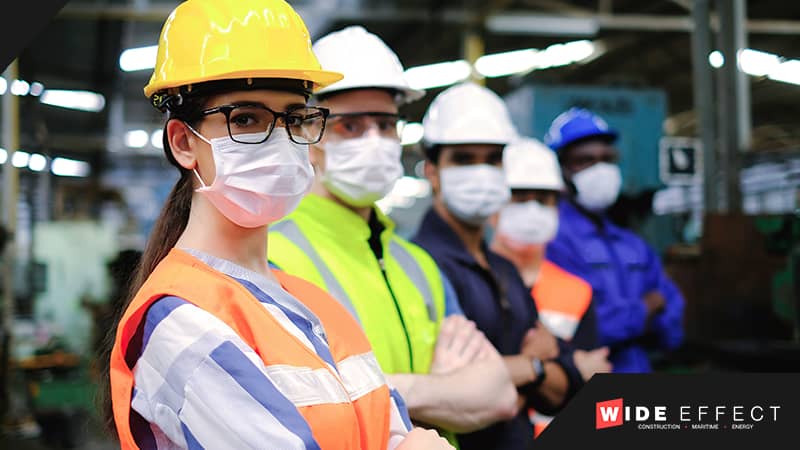 The booming housing market in the US, in conjunction with only 80% of the construction workforce returning after the pandemic, has created a labor shortage in the construction sector. The latest findings show that the nation will have to fill more than 1 million vacant construction jobs to match supply with demand.
Given that demand for skilled construction workers currently vastly exceeds supply, right now is the perfect time to start your career in the construction industry. Not only can new recruits expect higher starting pay, but they may encounter softer competition.
As long as you have a few years of apprenticeship under your belt, you will likely have your pick of the litter when it comes to construction jobs. Staffing agencies like Wide Effect can help you sift through your choices and match you with the right position. With 60 years of experience staffing construction roles in the US, and filling temp-to-hire roles, Wide Effect has the connections to help you secure your dream construction job.
Why Has There Been A Labor Shortage In the US Construction Sector?
When the nation returned to a semblance of normalcy in the summer of 2021, only 80% of the construction workers returned to their original posts. More than 238,000 employees did not return, having chosen to stay at home or to pursue another opportunity. In light of the projections predicting the need for more than 1 million workers in the construction sector in the upcoming years, the US is currently facing one of the largest construction labor shortages in history.
The main cause of this labor shortage is the lack of remote work in the construction sector. During the pandemic, many Americans have decided to pursue a career where they would not need to engage in face-to-face interactions with their colleagues. Whether they are looking for remote work to minimize their odds of contracting COVID-19 or to better take care of their family at home is moot. The point is that construction jobs no longer fit the mold of a desirable career for an increasing number of Americans.
How Can This Labor Shortage Benefit You?
However, if you are not looking for a remote position, a career in construction can be a highly rewarding pursuit. This is especially true in light of the current labor shortage, as starting pay has never been higher and competition never lower.
Construction jobs are known for being relatively less stringent on academic requirements (compared to office jobs) for how much they pay. With construction employers desperately looking to replenish their ranks, this is all the more true. Some employers are even willing to increase starting hourly wages by 40% in an effort to entice more applicants. This wage increase may not be permanent, however, so do not dawdle if you plan to break into the construction sector.
As many previous construction workers have chosen not to return to the industry, competition for lucrative roles is wide open. This does not mean that employers are less selective about their new hires. Recent research has shown that employers have even increased their job requirements and expectations. What this really means is that you will not face much competition if you do possess the new skills construction companies are looking for. If you have been spending your time during the pandemic upskilling yourself, you will almost certainly see success in the construction job market. The skills you have attained in your previous job could be highly desirable to the eyes of construction employers.
In short, the labor shortage in the construction sector can be a great boon to those who have been wanting to pursue a career in it. Higher pay makes construction jobs more profitable than ever, and the lack of competition, combined with increased job requirements, makes candidates with job experience in a different industry surprisingly competitive.
Your Opportunity To Pursue A Construction Career Is Now
Hundreds of thousands of Americans abandoned the construction sector this year, looking for careers more accommodating to a remote work lifestyle. This left a gaping labor shortage that cannot meet the increasing demands and opportunities provided by the economy. Anticipating growth, construction companies are willing to significantly increase base pay to make their jobs more attractive to candidates.
If you have transferable skills and a desire to transition into construction, you will not find a better time to make the move than the present. Wide Effect can help you in your job search. A construction staffing agency with more than 60 years of experience sourcing candidates for reputable construction companies, Wide Effect can match you with a construction job that best suits your skillset. Connect with us by calling 1-833-493-5627 or by filling out the online contact form.
FAQs
Q: What is recruitment process outsourcing?
A: RPO is a service we offer where we manage all your recruitment activities. We effectively become an extension of your company's HR department. RPO leverages the staffing agency's expertise in the sector to hire exceptional talent while relieving pressure from your in-house HR department.
Q: Which sectors does Wide Effect specialize in?
A: Wide Effect specializes in Construction, Maritime, Oil & Gas, Renewable Energy, and Safety Personnel.
Q: I am a job seeker. Where can I find open positions that I can apply for??
A: You can visit our current job postings here.
Wide Effect Will Resolve Your Workforce Challenges
We are the nation's top recruiting force for Construction, Maritime, Renewable Energy, Oil & Gas, and Safety Personnel. If you have staffing challenges at any level- labor to leadership, we have the solution. Connect with our recruiters in all 50 states now and learn more about our staffing blueprint for success.
A Better Way to Recruit
Are you experiencing productivity challenges, skill gaps in your workforce, or do you need a short-term placement? Don't waste your time and money navigating these alone. We bring the process, experience, and placement successes you need to make your labor force concerns a thing of the past. Call us at 1 (833) 493-5627 or use the contact form to discuss your personalized staffing solution.
By submitting this form, you opt-in and give expressed consent to receiving SMS / text messages, calls, and emails from us for the purposes of communication related to your inquiry or related to the products and or services we provide.