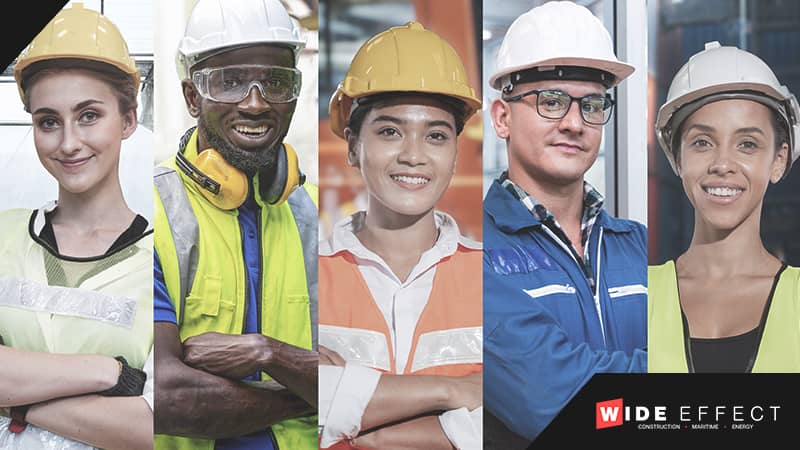 Hiring candidates for available renewable energy jobs puts strain on HR departments and can cost your company money, time, and resources. The hiring process is highly involved and needs to not only attract a wide selection pool of qualified candidates but also ensure the selected candidates are interested in a long-term renewable energy career with your company. While HR departments struggle to meet these intensive demands to find workers who will seamlessly integrate with your company, a recruiting agency has the capability, knowledge, and network to place qualified candidates in your company. With the help of a recruiting agency, your company will receive the staffing solutions it needs without putting strain on your HR department.
How To Find And Keep Workers
Attract Qualified Candidates
The Challenge: It is important that companies focus their recruitment process to ensure that they attract the most skilled and qualified candidates and build a resilient workforce. But recruitment takes valuable time and resources from an internal HR team, and can be a costly endeavor. Presenting a job position as open is not enough to catch the interest of qualified candidates, which means your company could be waiting a longer time and losing money until a position is filled. While there may be qualified candidates available, your company needs to present the available position as a lucrative opportunity or else potential talent will focus their job application efforts elsewhere.
The Solution: Employees want to know more about the culture of the company and the benefits that will be offered to them. A recruiting agency will know which aspects of your company will draw in the most applicants and generate more interest in potential workers. Staffing agencies will also be able to articulate and emphasize the workplace culture so that candidates understand the values and goals of the company to determine that this is a job that will meet their personal expectations. Partnering with a recruiting agency will ensure that your renewable energy job posting is presented to the right candidates.
Reach More Candidates
The Challenge: Many renewable energy companies have a variety of positions that need to be filled that extend beyond the renewable energy sector itself. For example, IT is an integral part of the renewable energy sector, however attracting tech candidates who are more likely to know about and pursue large tech companies can be difficult. Finding candidates for positions that are not specific to renewable energy can be challenging for HR departments and can leave them without connections.
The Solution: Recruiting agencies have access to, and intimate knowledge of, multiple fields and sectors. Through the use of already established networks in various fields, a recruiting agency will reach more candidates and showcase industry strengths and the importance renewable energy plays in everyone's lives. A recruiting agency will work with your company to reach workers who may otherwise not have considered renewable energy jobs.
Retaining Workers
The Challenge: Once you've hired the most qualified candidates, you need to make sure they stay for the long term. Fostering a healthy work environment will help keep workers satisfied, but it is often not enough. Failed hires and low retention leads to greater costs associated with high turnover rates.
The Solution: Workers need to fit with the company culture from day one and become an immediate part of the team. When you partner with a recruiting agency, candidates will be screened not only for their skills but also for their goals within the company and the sector to assure the candidate and company align in work ethic and company values. Recruiting agencies streamline the hiring process so that workers integrate into your team immediately and you can start building a foundation for employment longevity.
Maintaining Networks.
The Challenge: Renewable energy projects often rely on contractors and staff who are willing to relocate based on the project. This requires that HR departments maintain dynamic and flexible networks of contractors who can mobilize quickly. This can be time consuming for internal HR departments that are already at capacity with other human resource demands.
The Solution: One of the main focuses of recruiting agencies is to constantly cultivate new relationships with candidates and maintain a robust network of skilled and qualified talent. When you partner with a successful and reliable staffing agency you gain access to a growing roster of workers seeking out all types of employment agreements, including those who are able to travel and those who can be available on short notice for opportunities in renewable energy. This saves your company time and money resources trying to maintain up-to-date networks so you can find employees quickly without interruption to project workflow.
Hire The Best Renewable Energy Recruits With Wife Effect
When you outsource your recruiting and staffing to a recruiting agency, you automatically leverage the many years of experience and established networks of the recruiting agency. By partnering with Wide Effect, your renewable energy staffing is a simple, streamlined process with a larger selection pool that offers the most qualified recruits that will stay with your company. Whether you're looking to hire renewable energy executives or to hire for labor-focused renewable energy jobs, Wide Effect can find the right candidates for your company. To partner with Wide Effect and get renewable energy staffing solutions that last, call 1-262-298-0026 or fill out the online contact form.
Partnering with an experienced recruiting agency will actually save you money by reducing your cost-per-hire, eliminating costs associated with unsuccessful hires, minimizing interruptions to workflow and productivity, and freeing up your personnel resources to focus on more effective tasks.
Wide Effect has a growing proprietary database of more than 1.5 million candidates. We have premium partnerships and subscriptions that give us access to another 20 + million members of the Construction, Marine, Energy, Oil & Gas, and Safety workforce. We have a formula for strategic networking with the industry's top players. Wide Effect seeks candidates through local, regional, and national advertising campaigns and we host our own Career Opportunity website.
Wide Effect Will Resolve Your Workforce Challenges
We are the nation's top recruiting force for Construction, Maritime, Renewable Energy, Oil & Gas, and Safety Personnel. If you have staffing challenges at any level- labor to leadership, we have the solution. Connect with our recruiters in all 50 states now and learn more about our staffing blueprint for success.
A Better Way to Recruit
Are you experiencing productivity challenges, skill gaps in your workforce, or do you need a short-term placement? Don't waste your time and money navigating these alone. We bring the process, experience, and placement successes you need to make your labor force concerns a thing of the past. Call us at 1 (833) 493-5627 or use the contact form to discuss your personalized staffing solution.