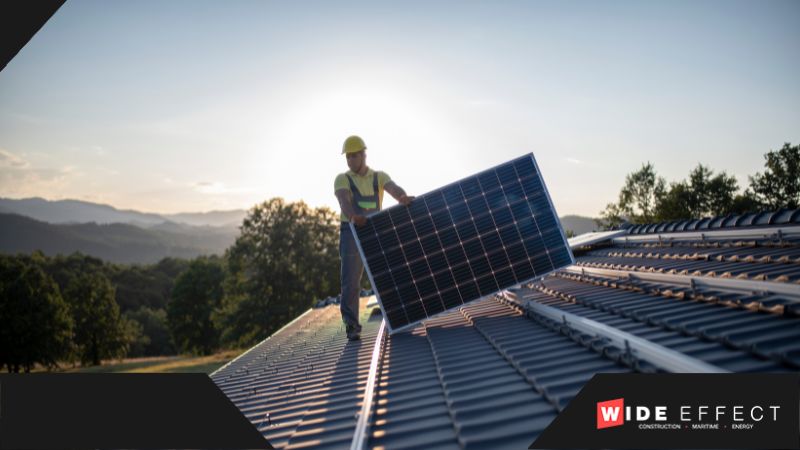 As the demand for renewable energy increases, new companies are forming, current companies are expanding, and demand for renewable energy staff is expected to continue increasing at a fast pace. Although this offers great opportunities for industry growth and expansion, it also makes it more difficult for companies to find qualified renewable energy employees. As the need for renewable energy talent increases, renewable energy companies need to utilize strategies that account for their current and future staffing needs and challenges. Here are some aspects to consider that may influence your company's staffing strategy as the renewable energy sector continues to grow.
Renewable Energy Staffing Solutions
Recruiting Laborers
Challenge: Because renewable energy is a relatively new field, there are not many candidates with extensive experience specific to renewable energy. Qualified employees from other sectors often don't realize that their skills are transferable. Despite increased interest, many potential candidates do not apply for the renewable energy sector because of the lack of understanding of what talent is being searched for.
Solution: Recruiting renewable energy candidates requires companies to expand their network and advertise not only available positions but also skill gaps their company wishes to fill. Renewable energy positions need to be advertised to construction laborers who are new to the industry as well as those who have years of experience in other sectors to draw in qualified staff who don't know their skills transfer to this industry. As different companies continue to compete with one another, your business also needs to keep up with the competition by offering career development and opportunities. This will help your business retain talent in the years to come as renewable energy laborers are even more in demand.
Recruiting Management And Office Staff
Challenge: Management employees are expected to be even more difficult to recruit than laborers. Positions such as engineers, project developers, project managers, legal staff, finance experts, and more are all difficult to recruit. These positions require longer post-secondary education and the increased need for renewable energy is expanding faster than students can get their education. People who already have their education are often already working and building their careers.
Solution: The key to finding strong candidates who are involved in management roles and behind-the-scenes work is to recruit people who already work in the construction industry and who could be persuaded to switch sectors. Another potential strategy is to prioritize long-term investments and encourage more people to go for their post-secondary education in relevant fields. Recruiting new graduates will help renewable energy companies, as finding high-potential candidates early can yield significant long-term benefits. Renewable energy staffing for management or office positions is expected to take increasingly creative advertising from the renewable energy sector. Renewable energy companies that want to find highly qualified management and other office positions should use the resources of a staffing agency, as this will give companies access to a wide candidate pool and professional recruiting and hiring resources.
Retention
Challenge: The current generation of young people entering the workforce have less brand loyalty and are not likely to stay with a company unless they are offered incentives throughout their career. Many staff members are not interested in letting their careers stagnate, and instead they search for other opportunities, wherever they may be.
Solution:To help retain employees long-term, companies need to offer incentives for employees to stay. This includes career development opportunities, health benefits, competitive wages, and more. Incentivizing your staff to stay and to not switch sectors later will help you retain staff for years to come. Having two-way communication between laborers and management also helps to address any employee dissatisfaction and quickly relieve the issue.
Want to learn different hiring strategies to attract and retain candidates?
Read Staffing Solutions And Hiring Strategies For The Renewable Energy Sector.


Renewable Energy Staffing Solutions For The Present And The Future
Be prepared for the future of renewable energy and all of the related expected staffing challenges by partnering with a staffing company that can recruit qualified candidates who seamlessly integrate into your company. At Wide Effect, our renewable energy staffing solutions include recruiting the most talented and qualified workers based on their craftsmanship, certifications, dependability, and productivity. We offer sustainable staffing hiring solutions that will help your company find and keep employees. Contact Wide effect at 1-262-298-0026 or fill out the contact form to start preparing your company for the future of construction through effective renewable energy staffing strategies.


FAQ
Q: What positions can Wide Effect help my company fill?
A: Wide Effect recruits employees from all levels of industry, from laborers to management positions.
Q: How can Wide Effect help my business stay competitive?
A: Wide Effects staffing solutions can attract top-quality, forward-thinking candidates that can help your company meet and exceed its goals. As the renewable energy industry progresses and becomes more advanced, new talent will be needed to accommodate for changes in the field. Wide Effect can help you stay ahead of the curve with renewable energy staffing in every area of your business.
Q: What staffing options does Wide Effect offer in the renewable energy sector?
A: Our recruiting agency does direct-hire recruiting, temp-to-hire recruiting, and Employer of Record (EOR) services for all levels and jobs in the renewable energy sector. We have candidates who work in solar, hydro, bioenergy, wind, geothermal, and ocean.
A Better Way to Recruit
Are you experiencing productivity challenges, skill gaps in your workforce, or do you need a short-term placement? Don't waste your time and money navigating these alone. We bring the process, experience, and placement successes you need to make your labor force concerns a thing of the past. Call us at 1 (833) 493-5627 or use the contact form to discuss your personalized staffing solution.
By submitting this form, you opt-in and give expressed consent to receiving SMS / text messages, calls, and emails from us for the purposes of communication related to your inquiry or related to the products and or services we provide.