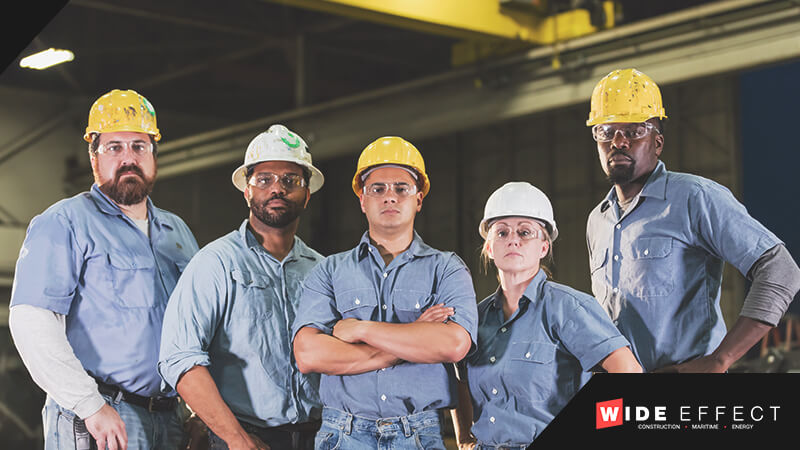 As the construction industry continues to grow and contractors continue to search for workers, many people are also looking for careers in construction.
Below is a list of the most common construction jobs with great potential for growth opportunities that also happen to be some of the most sought-after in the industry.

Recruiters List of Most Common Construction Jobs
Construction is one of the most popular industries for laborers in the US.
There are many avenues to pursue when looking for construction jobs, and this list is only a brief preview of the jobs in high demand in the industry. If you're looking to staff a construction project or need help recruiting these common construction jobs, contact us for a free consultation or call 262-298-0026.
Wide Effect Talent Solutions helps your business grow by providing you with a team of highly talented, experienced professionals that perfectly fit your construction project needs.
Top 5 Skilled Labor Construction Jobs With Good Pay
a) Crane Operator
A crane operator controls a variety of ordnance, such as a tower crane or an all-terrain crane, which can move, lift, and position large materials found on construction sites. There is no official education or training regimen for crane operators, but select schools offer a Crane Operator apprenticeship program that teaches the necessary skills. This role is best suited for stable, tactile, focused, and mechanical personality types.
Most job descriptions require that you have experience or training before applying for the position. Yearly salary for this position starts around $33,000 and can grow up to $99,600.
b) Hazardous Materials Inspector
Commonly referred to as HazMat workers, this role is responsible for securely disposing, reporting on, or investigating potentially harmful substances such as radioactive materials, arsenic, mold, asbestos, nuclear waste, lead, or mercury.
Regardless of how much or what type of hazardous material needs to be removed, HazMat workers always will have access to sufficient personal protective equipment. This role is best suited for people who like working independently, appreciate detail-oriented tasks, and enjoy investigative work.
Salary ranges from $40,000 to $85,000, depending on the experience and certification of the applicant. The majority of applicants do not have formal education for the role, but there are certificates and associate degrees that prepare candidates for this career path.
c) Construction Laborer
This is an entry-level position for people interested in the industry but may not have the experience for other roles. Construction laborers complete a variety of labor tasks like digging, lifting, loading, or using a variety of hand and power tools. Their role is to provide manual support for construction teams and gain a broad base of knowledge that can carry them forward for the rest of their career in the construction industry.
No experience is necessary for this role, and salary varies greatly depending on the candidate's responsibilities and experience. Salary can range anywhere from minimum wage to $50,000 per year
d) Project Manager
Project Manager is a leadership position that is responsible for the completion and success of a construction project. This role is best suited for people that can easily multitask, have strong communication skills, and have a track record of being dependable and trustworthy. The position requires people to plan construction projects, oversee the construction, keep the project on schedule and within budget—all while reporting to the client and internal supervisors.
There are multiple paths to becoming a project manager. For education, any bachelor degree in engineering, accounting, or even human resource management can work. Experience in a construction environment is also recommended. Salary expectations range from $45,500 to $92,000, but there is potential to earn bonuses for projects completed on time and within budget.
e) Mechanic

Mechanics are in high demand for projects such as constructing bridges, power plants, and oil and gas production facilities. Mechanics may also be needed for performing routine repairs to homes and businesses.
There are various education paths you could pursue to become a mechanic, but the most important credential is probably experience. Post-secondary degrees may be less advantageous than having an apprenticeship under your belt when negotiating your starting salary.
Salary expectations vary significantly, depending on the mechanic's specialization or skill orientation. Mechanics can earn as little $30,000 to as much as $100,000.
Attainable Construction Jobs That Every Project Needs
Construction workers make up a diverse group of laborers. Finding which roles to fill in a construction project starts with having a clear understanding of which positions are most commonly sought after and what the project-specific expectations are for those positions.
If you're a commercial, industrial, or residential construction company that needs staffing for your projects, contact Wide Effect Talent Solutions for a staffing and recruitment consultation.
FAQ's
Q: Is there potential for career growth in the construction industry?
A: Yes, there are a variety of growth paths depending on the employee's interests and experience. There is also an array of diplomas, designations, and degrees available for people looking to take the next step in their construction careers.
Q: How long do women hold management and executive positions in construction?
A: According to bigRentz inc, the average tenure of women in construction manager positions is 5.7 years. The length of career for women with C-level executive titles is 7 years on average.
Wide Effect Will Resolve Your Workforce Challenges
We are the nation's top recruiting force for Construction, Maritime, Renewable Energy, Oil & Gas, and Safety Personnel. If you have staffing challenges at any level- labor to leadership, we have the solution. Connect with our recruiters in all 50 states now and learn more about our staffing blueprint for success.
A Better Way to Recruit
Are you experiencing productivity challenges, skill gaps in your workforce, or do you need a short-term placement? Don't waste your time and money navigating these alone. We bring the process, experience, and placement successes you need to make your labor force concerns a thing of the past. Call us at 1 (833) 493-5627 or use the contact form to discuss your personalized staffing solution.
By submitting this form, you opt-in and give expressed consent to receiving SMS / text messages, calls, and emails from us for the purposes of communication related to your inquiry or related to the products and or services we provide.