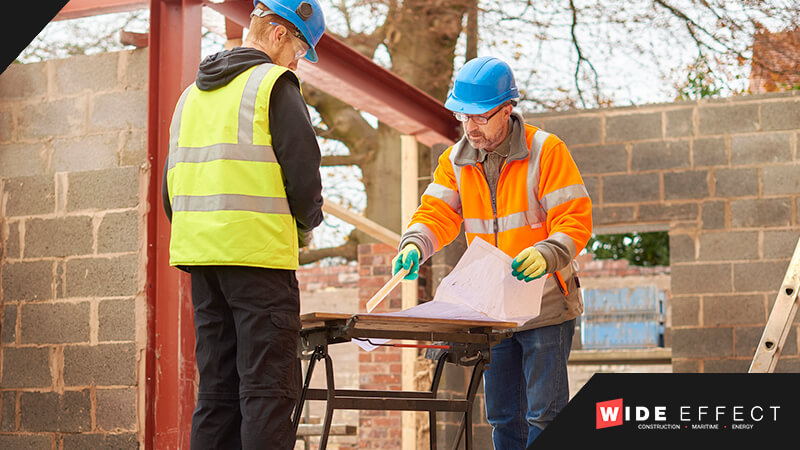 Joining a new construction crew means learning about your new site, colleagues, and supervisors. A lot of information will get thrown your way in your first several days and you need to be prepared for it. The way you integrate into your new crew will demonstrate what sort of a worker you are and can set you apart from other new hires. Show your new company that you're a fast learner, a team player, and that you follow all safety protocols in your first few days to set yourself up with a good reputation going forward. The construction industry is fierce and you need to put in all of your effort to show that you are an asset to your crew. If you want to make a strong first impression, follow these 5 tips.
5 Ways To Stand Out At Your New Construction Job
Learn All You Can. When you're new on a crew, your superiors will expect you to learn and adapt quickly. Listen to everything you're told and treat the experience as a learning tool for this job and others in the future. You might feel overwhelmed with the fast pace but try to keep up and when you get home after work take some time to remember what you've learned that day.
Keep Your Standards High. Being a new hire doesn't mean you can relax about precautions. Construction sites are dangerous and there are strict protocols detailed for your safety and the safety of those around you. Assume that you're always in more danger than you perceive and always listen to warnings from your supervisors or colleagues.
Don't Take Shortcuts. If you find a way to do a task faster by skipping steps or otherwise cutting corners, don't do it. Construction has no room for error and all safety precautions must be followed. It's better to properly prepare, triple check your work, and execute the task with your team in a safe and controlled environment.
Curate A Great Reputation. Your reputation is vital to your work in construction, particularly if you're working contracting jobs or hope for eventual promotion. You want to be known as a team player and as a hard worker who always follows safety protocol and is reliable. Getting a reputation as a dependable and exceptional worker will get you more jobs and more trust amongst your colleagues going forward. Remember that you want to be more than a good worker, you want to be an outstanding worker.
Continue To Work Hard. Don't feel discouraged if you have a hard time adapting at first. If you're new to construction it can be a lot to take in and even if you have some experience you still have to learn to adapt to your new colleagues, superiors, and work environment. If you feel as though the work is too stressful or overwhelming, remind yourself that you've committed to this position and that you'll eventually get past the learning curve. You want to show your boss that you're dependable and capable of learning, so stay focused on your work and dedicated to improving.
Find The Right Construction Staffing Company To Set You On Your Career Path
Get the construction job you want by partnering with a reputable and established staffing and recruiting company that will put you in front of the right people and the right opportunities. If you are new to construction, look for an agency that recruits for temp-to-hire and direct-hire positions to optimize your chances of growing and advancing within the sector. With over 60 years of experience, Wide Effect understands how to align workers and employers with the same work ethics and values and can find the company with the most ideal placement for you. Join the Wide Effect construction staffing database here or fill out the contact form if you have any questions.
FAQ
Q: Is construction a growing market?
A: Yes. Sector revenue has been rising at a rate of 2.4% over the last several years and is projected to increase over the next 5 years.
Q: Is there room for promotions in construction?
A: Yes. You may start out doing one type of construction job, but if you work hard and build a good reputation, opportunities for career advancement are attainable.
Q: What are the perks of joining a staffing company?
A: Staffing companies have an already established network of employers and construction professionals. We can match you with a company that will best suit you and we can help you tailor your resume to the position you're applying for. Construction staffing companies are invaluable for those looking for a career in a competitive field and staffing companies can offer a multitude of options, including temp-to-hire and direct-hire construction positions.
Wide Effect Will Resolve Your Workforce Challenges
We are the nation's top recruiting force for Construction, Maritime, Renewable Energy, Oil & Gas, and Safety Personnel. If you have staffing challenges at any level- labor to leadership, we have the solution. Connect with our recruiters in all 50 states now and learn more about our staffing blueprint for success.
A Better Way to Recruit
Are you experiencing productivity challenges, skill gaps in your workforce, or do you need a short-term placement? Don't waste your time and money navigating these alone. We bring the process, experience, and placement successes you need to make your labor force concerns a thing of the past. Call us at 1 (833) 493-5627 or use the contact form to discuss your personalized staffing solution.
By submitting this form, you opt-in and give expressed consent to receiving SMS / text messages, calls, and emails from us for the purposes of communication related to your inquiry or related to the products and or services we provide.