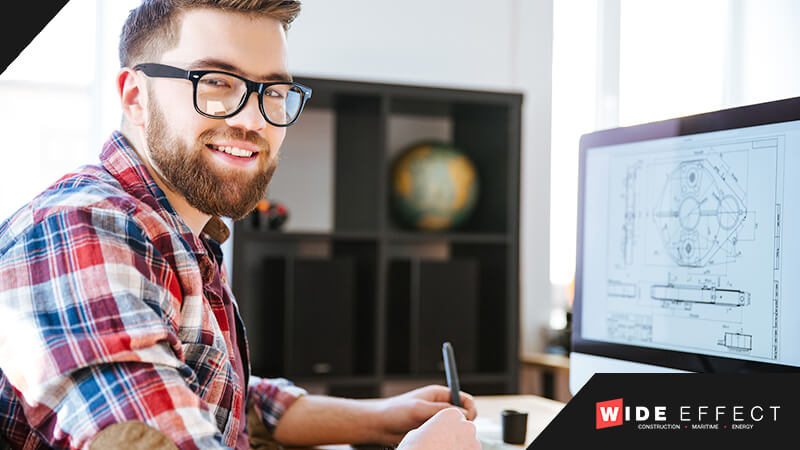 As more people, countries, and businesses realize the urgent need to develop and use renewable energy, lucrative job opportunities are becoming available. As the dynamic green energy sector continues to grow, it requires highly-skilled and innovative professionals for all positions. While the amount you earn will be dependent on your sector and your experience, we have compiled the average annual salaries in the top paying positions. If you have the experience and skill to join the renewable energy sector or if you are completing your educational path to join in the near future, here are some of the highest paying jobs in this cutting-edge field.
9 Of The Top Paying Renewable Energy Careers In 2022
Architect Engineer/Manager. $144,830. Architect engineers design energy efficient buildings. This position involves detailed planning, research management, and technical precision in order to produce sustainable buildings. This job requires a Bachelor's Degree in Architectural Engineering or a related field such as civil engineering. Some positions may also require a master's degree but it is dependent on the company.
Petroleum Engineer. $137,720. Petroleum engineers work in the oil and gas industry. Although these are non-renewable resources, petroleum engineers typically work to design and build more efficient and cleaner ways to extract and develop these resources, as well as discovering new related resources. This position offers careers both in the field and in the office. To become a petroleum engineer, a person must have a Bachelor's Degree in Engineering, preferably in petroleum engineering or a related field.
Wind Farm Site Manager. $110,630. Also known as wind energy operation managers, this position supervises and runs wind farms used for energy collection. A wind site farm manager oversees all of the personnel on the wind farm and are responsible for maintaining the windmills and ensuring safety on site. This career requires a highschool degree and experience in the field. A Bachelor's Degree may be preferred but it is not required.
Civil Engineer. $87,060. Civil engineers plan and design projects as well as perform supervision. Civil Engineers who focus on renewable energy often assist in designing new renewable technology. This role requires a Bachelor's of Engineering in civil engineering, although some places also require a Masters, which can lead to a salary of around $144,560.
Power Plant Operator. $85,950, assuming you have some training and experience. Some power plant operators can make upwards of $117,130, making it one of the highest earning jobs in the energy section without a bachelor's degree. Those in this position are responsible for overseeing the systems and distributing energy for either renewable or non-renewable energy.
Financial Analyst. $85,439. Financial analysts in the renewable energy industry work with companies to track energy spending, pay employees, and address other financial concerns. This role is vital for companies who hope to expand, as they will need to know which area to develop energy products as well as how to maximize profits. This position typically requires a Bachelor's Degree in either economics, finance, statistics, accounting, or math.
Chemist. $70,195. Chemists help to develop and manufacture lubricants and fuels as well as develop new biofuels. Due to the complex nature of this role, chemists in the renewable resources sector may need a Master's Degree for this position.
Site Assessor. $69,778. Site assessors visit sites for potential power generation and determine if enough energy can be harvested at a location that it would be worth company investment. This role can be filled by someone with a Bachelor's Degree or a certification.
Project Manager. $66,000. This title is not a specific profession, but given the number of projects in the renewable energy industry, many sites value a project manager. This position is a supervisor role dedicated to the planning, overseeing, and executing of projects. This role often requires an advanced project management course and has the potential to make around $100,000 after more experience is gained.
Get Renewable Energy Jobs Through Wide Effect
If you want to join a forward-thinking workforce that can offer effective and sustainable renewable energy solutions for the future, become a part of the global talent roster at Wide Effect. Renewable energy careers are highly competitive and you need the help of a recruiting agency that has a network of specialists working with you. Wide Effect is a staffing agency with over 60 years of experience matching qualified candidates with reputable companies. If you want to find a company that will leverage your skills within a healthy workplace culture, call Wide Effect at 1-262-298-0026 or contact us using the online contact form.
FAQ
Q: What staffing renewable energy position options does Wide Effect offer?
A: Our recruiting agency does direct-hire recruiting, temp-to-hire recruiting, and recruitment process outsourcing for all levels and jobs in the renewable energy sector. We have candidates who work in solar, hydro, bioenergy, wind, geothermal, and ocean.
Q: I am a job seeker. Where can I find open positions that I can apply for?
A: You can visit our current job postings here.
Q: Does the applicant need to pay the staffing agency for its services?
A: No. It is the employer, not the applicant, who pays the staffing agency.
A Better Way to Recruit
Are you experiencing productivity challenges, skill gaps in your workforce, or do you need a short-term placement? Don't waste your time and money navigating these alone. We bring the process, experience, and placement successes you need to make your labor force concerns a thing of the past. Call us at 1 (833) 493-5627 or use the contact form to discuss your personalized staffing solution.
By submitting this form, you opt-in and give expressed consent to receiving SMS / text messages, calls, and emails from us for the purposes of communication related to your inquiry or related to the products and or services we provide.