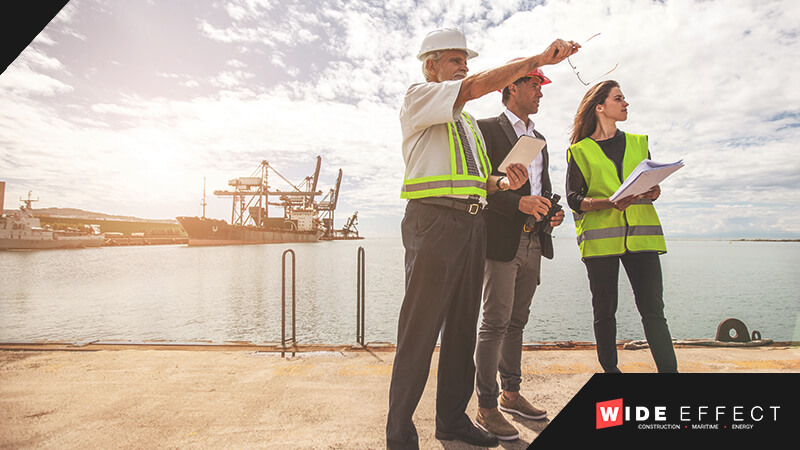 In search of a unique and rewarding job?
A career in the growing maritime construction sector may be for you. As maritime trade plays an increasingly large role in the global economy, shipyards and ports around the world are looking for capable hands to build and repair state-of-the-art vessels and install the latest electrical and navigational equipment onboard.
If you've ever dreamed of building a supertanker from scratch or applying your technical skills aboard a luxurious cruise ship, you may want to consider these 8 exciting and high-demand opportunities.
Start Your Career in Maritime Construction And Take Advantage Of Our Staffing Solutions
A career in maritime construction can be extremely rewarding. Without your technical expertise to maintain and repair cargo freights, build international ports, and supervise trade logistics, the world will suddenly grind to a halt.
Maritime construction is perfect for ambitious individuals who want to:
Travel around the world
Apply their expertise in a unique work environment
Get paid handsomely
Feel indispensable
Training for a career in this industry will be challenging, but the payoff is worthwhile and immediate. Once you've become an accredited professional in maritime construction, contact Wide Effect to fast-track your career. Our maritime staffing solutions are guaranteed to find you a position you'll enjoy and can grow in. Learn more about our staffing and recruiting services by calling (262) 298-0026 or filling out the online contact form.
8 Exciting And High-Demand Jobs in Maritime Construction
Intrigued in exploring a career in maritime construction?
Consider these 8 exciting, high-demand, and lucrative jobs in the field:
Marine mechanic: This expert makes sure that the fleet is seaworthy. Whether it's boat engines, hulls, propellers, masts, sails, or navigation equipment, the marine mechanic can repair it. A fleet without a team of marine mechanics is a grounded fleet.
Marine electrician: Marine electricians specialize in testing, maintaining and repairing ships' electrical equipment and systems. Think of batteries, radio supplies, and navigation systems like radars.
Marine carpenter: This professional is responsible for the ship's structural integrity. The marine carpenter works with aluminium, wood, and fiberglass to optimize the ship's performance. They can be counted on to inspect, construct, and repair ship parts and surfaces.
Marine insulator: It's no secret that water and electricity don't mix. As such, marine insulators are crucial to ensure that ships and its many electrical systems can operate safely at sea.
Marine welder: The marine welder is entrusted with the responsibility to dive underwater to weld offshore equipment. Combining advanced welding skills, a peak physical condition, and a thirst for thrills, marine welders are essential for the construction of ports.
Marine painter: Constant exposure to water leads to corrosion in ships and other maritime infrastructure. Among other duties, a marine painter applies special coatings to protect assets and equipment from rust.
Marine machinist: Fluent in sketches, diagrams, and blueprints, the marine machinist specializes in creating, repairing, and modifying ship parts and equipment.
Shipwright: Behind every massive cargo freight is a team of hard-working shipwrights. These workers are responsible for building the supertankers and bulk carriers that dominate the oceans.

Wide Effect has 60 years of combined staffing experience staffing maritime construction experts in high-profile multinational companies across North America.

Maritime Construction: A Growing Sector
As our world becomes more interconnected and the seafaring capabilities of emerging countries improve, maritime trade will play an even larger role in the years to come. To sustain this trade, ship experts, technicians, and builders will be needed in great numbers. Joining this sector at this time propels you to the center of this revolution.
Already a maritime construction expert? Call Wide Effect at (262) 298-0026 or fill out the online contact form to discuss how we can find a rewarding and fulfilling opportunity for you.
FAQs
Q: Does Wide Effect help staff other maritime construction careers?
A: Yes. Visit the Careers page to see other opportunities in maritime construction.
Q: Do these careers offer room for promotion and advancement?
A: Yes. All positions have room for promotion and advancement on both technical and management ladders.
Q: How do I start a career in maritime construction?
A: Most of these opportunities require a high school degree and the completion of a trade school program.
Wide Effect Will Resolve Your Workforce Challenges
We are the nation's top recruiting force for Construction, Maritime, Renewable Energy, Oil & Gas, and Safety Personnel. If you have staffing challenges at any level- labor to leadership, we have the solution. Connect with our recruiters in all 50 states now and learn more about our staffing blueprint for success.
A Better Way to Recruit
Are you experiencing productivity challenges, skill gaps in your workforce, or do you need a short-term placement? Don't waste your time and money navigating these alone. We bring the process, experience, and placement successes you need to make your labor force concerns a thing of the past. Call us at 1 (833) 493-5627 or use the contact form to discuss your personalized staffing solution.
By submitting this form, you opt-in and give expressed consent to receiving SMS / text messages, calls, and emails from us for the purposes of communication related to your inquiry or related to the products and or services we provide.