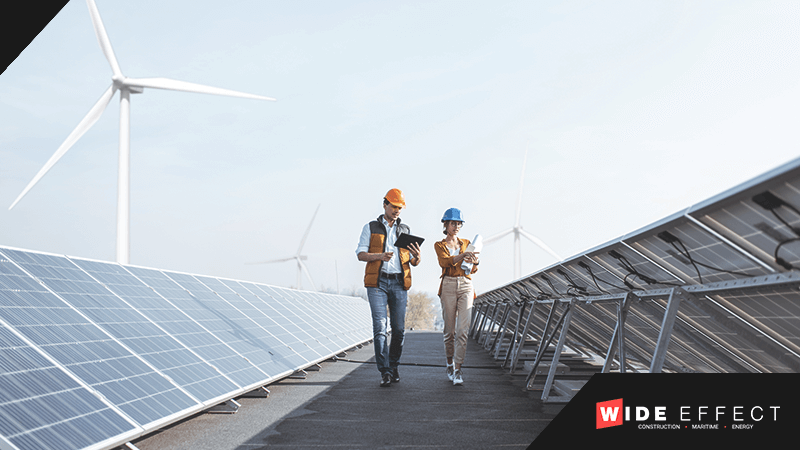 Renewable Energy is a diverse and fast-growing industry in the US and around the world. As nations look to transition from the traditional energy model of Oil & Gas, new technologies, new jobs, and new opportunities for exciting and dynamic careers are emerging. According to Forbes, the US has a 20.1% consumption rate of Renewable Energy, placing it only behind China as a global consumer. Renewable Energy is the future and for job seekers looking for a sustainable career with unabated growth, a path in Renewable Energy is an interesting option. This article will discuss some of the most promising occupations in new energy.
You Are The Future Of Energy
The growth of the Renewable Energy industry globally is accelerating and this is the future of energy. This unprecedented growth provides countless opportunities for people seeking a career with sustainability and tons of potential for growth and advancement. It is also an opportunity for workers new to the workforce to provide employers with innovative talent and fresh perspectives as companies build robust and adaptable teams to carry them through the decades of growth that are imminent. Wide Effect offers global talent acquisition solutions for job seekers and employers with a team specialized in Renewable Energy.
Unprecedented Growth, Unprecedented Opportunities
Whether you are seeking an executive or a labor position, there are many opportunities to build a sustainable career with a robust trajectory. Here are some of the top jobs in Renewable Energy for 2021.
Executive:
Energy Transition Specialist: This higher-level position is ideal for someone with a BS or MS in engineering and a decade or more of experience in new energy. You are responsible for the reduction of fossil fuel dependency and the development and delivery of clean energy alternatives. Your role will focus on solutions for energy generation and distribution, clean manufacturing, decarbonization, carbon capture and storage, and engineering feasibility. The typical starting salary rate is $103,000 / year.
Land Acquisition Specialist: You are responsible for negotiating for and securing land acquisitions for Renewable Energy initiatives. This could include collaborating with engineers, construction personnel, and environmental scientists for project feasibility, negotiating land-use contracts, consulting with special interest groups, and reviewing plans and legal agreements. This job requires a minimum of a bachelor's degree in a related field like geography or business. The typical salary rate is $63,000/ year.
Software Developer: The development of custom software solutions for energy initiatives is vital. These programs are responsible for plant operations, project flow, solar panel functions, wind turbine energy collection, and more. If you have your degree in computer science or software engineering there are opportunities for you across every sector of Renewable Energy. And this job offers excellent compensation with a typical salary of $107,000 with some developers earning over $160,000/ year.
Labor:
Glazier: Glass plays an important role in solar energy technologies. This creates an interesting if unconventional employment prospect for tradespeople with glazier training. If you have attained your ticket as a glazier, consider this career path with the typical salary of $44,000 and some of the more experienced accomplished glaziers earning upwards of $83,000/ year.
Wind Turbine Technician: Wind Turbine technicians are responsible for the installation, inspections, maintenance, and repair of wind turbines. This job is ideal for people seeking a specialized vocational program and those who are willing to climb to new heights, literally and figuratively! If you are not afraid of completing your tasks high in the air, Wind Turbine Technicians typically earn $53,000/ year, but the top 10% of earners in this role can command more than $80,000.
Crane Operator: Wind Power is one of the fastest-growing future energy sectors. And wind turbines are massive, heavy apparatus that require heavy machinery to place and install. Crane operators are in high demand as skilled operators of this vital machinery. You must obtain your technical training on crane operations, but after that you can expect to earn $56,000/ year with some projects paying over $91,000.
Find Your Path in Renewable Energy
These are some of the most promising and rewarding careers in Renewable Energy, but these are just a very few. If you are seeking opportunities to build a satisfying and lucrative career in future energy, Wide Effect can connect you with employers hiring now. And if you are an employer seeking your industry's top talent to build a robust and sustainable workforce as Renewable Energy experiences substantial growth in the coming years, Wide Effect has the recruiting and staffing solutions required to support your operations. Wide Effect is committed to providing the world's most highly skilled and experienced workers in Renewable Energy as we transition globally to a healthier planet. Explore our job opportunities here. Or find out more about the Wide Effect recruiting solutions here.

FAQs
Q: Where can I find postings for job opportunities in Renewable Energy?
A: Wide Effect recruits for many of the top employers in Renewable Energy in the US and across the world. Check out our most recent postings here, or connect with our team to join our global talent network.
Q: How can Wide Effect help me grow my team?
A: We specialize in recruiting, screening, and hiring the top talent across many industries. Find out how we serve our energy clients here and more about our talent acquisition solutions here.
A Better Way to Recruit
Are you experiencing productivity challenges, skill gaps in your workforce, or do you need a short-term placement? Don't waste your time and money navigating these alone. We bring the process, experience, and placement successes you need to make your labor force concerns a thing of the past. Call us at 1 (833) 493-5627 or use the contact form to discuss your personalized staffing solution.
By submitting this form, you opt-in and give expressed consent to receiving SMS / text messages, calls, and emails from us for the purposes of communication related to your inquiry or related to the products and or services we provide.