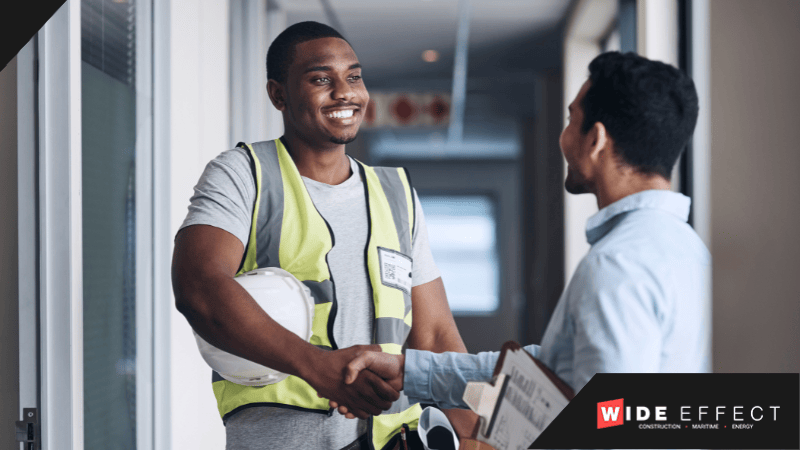 A staffing agency can offer their skills and resources to support your direct placement strategy. When a candidate is selected to fill a position and has successfully completed the interview process, they are hired by the employer. The candidate becomes an official permanent employee of the company instead of being employed through the staffing agency. This tactic is highly beneficial for companies looking to place top-quality candidates in permanent positions without the need for a hiring manager. Direct-hire through a staffing agency offers several benefits that streamline the hiring process while saving company resources while recruiting and after a candidate has been hired.
Working With A Staffing Agency For A Direct-Hire
1. Gain Access To A Larger Candidate Pool
When you partner with a staffing agency, you immediately gain access to their network of qualified workers. Staffing agencies will be in contact with workers who may otherwise not be looking on job application sites where companies often advertise, and staffing companies also have the added benefit of recruiting qualified workers who may otherwise not be looking at a specific job title or position but who have all of the qualifications. A staffing agency will source both active and passive candidates to get the greatest selection of qualified candidates. More candidates become available through direct-hire, as workers who are already employed in full-time positions who aren't interested in temp work, contract work, or part-time positions could be swayed to leave their current employment for direct placement.
2. Lowered Risk Of Turnover
When you source your direct placements from a staffing agency, you are receiving candidates who have expressed interests and work ethics that align with your company. Direct-hire workers through a staffing company are more likely to stay with your company long-term while also meeting and exceeding company expectations. This leads to fewer failed hires and a lowered risk of employees quitting. By hiring dedicated workers who are committed to your company, your business will have a reduced risk of turnover and will save money that may otherwise be used in repeated advertising and training. Greater staff retention creates a sense of stability within the company and discourages other workers from leaving. Having dedicated workers also increases overall productivity and creates a better work environment.
3. Find The Right Candidate Quickly
When your company partners with a staffing agency for direct-hire recruiting, the candidates have already gone through a rigorous pre-screening selection. This saves your company time and money by sending you top-quality candidates right away instead of the usual independent hiring process that wastes valuable company resources sifting through applications and checking references. Beyond the speedy selection process, a staffing agency can also streamline the hiring process, getting the candidate information into your system quickly. This fast onboarding process means that your open role will be swiftly filled and your company will not be missing valuable staff members for long.
Direct-Hire Staffing Solutions
When your company is trying to hire permanent, reliable workers, direct-hire recruiting is the solution. A staffing agency will find you top-quality, direct-placement candidates to fill a permanent position. When you partner with Wide Effect you are connected to our extensive network of highly skilled workers ready to quickly and seamlessly fill your open position through direct-hire placement. Wide Effect has a dedicated team of recruiters and a rigorous screening, assessment, and selection process that we have developed and perfected with our 60 years of experience. If you're ready to start recruiting qualified candidates immediately through direct-hire recruiting, contact Wide Effect at 1-262-298-0026 or fill out the online contact form.
We will examine your current workforce strengths and weaknesses, and highlight productivity and staffing concerns. We will analyze your workflow, planned initiatives, and projected growth. We will ask the questions needed to establish a deep understanding of the culture of your organization. From there we can help design a strong plan and determine which staffing model can meet your needs.
Wide Effect has a growing proprietary database of more than 1.5 million candidates. We have premium partnerships and subscriptions that give us access to another 20 + million members of the Construction, Marine, Energy, Oil & Gas, and Safety workforce. We have a formula for strategic networking with the industry's top players. Wide Effect seeks candidates through local, regional, and national advertising campaigns and we host our own Career Opportunity website.
Yes it can. Direct-hire through a staffing agency will save your company the cost of advertising for the position, having a hiring manager, checking references, running background checks, conducting interviews, negotiating offers, and more all while saving valuable time from members of management.
Wide Effect Will Resolve Your Workforce Challenges
We are the nation's top recruiting force for Construction, Maritime, Renewable Energy, Oil & Gas, and Safety Personnel. If you have staffing challenges at any level- labor to leadership, we have the solution. Connect with our recruiters in all 50 states now and learn more about our staffing blueprint for success.
A Better Way to Recruit
Are you experiencing productivity challenges, skill gaps in your workforce, or do you need a short-term placement? Don't waste your time and money navigating these alone. We bring the process, experience, and placement successes you need to make your labor force concerns a thing of the past. Call us at 1 (833) 493-5627 or use the contact form to discuss your personalized staffing solution.
By submitting this form, you opt-in and give expressed consent to receiving SMS / text messages, calls, and emails from us for the purposes of communication related to your inquiry or related to the products and or services we provide.